7 Tips for Your Elopement Ceremony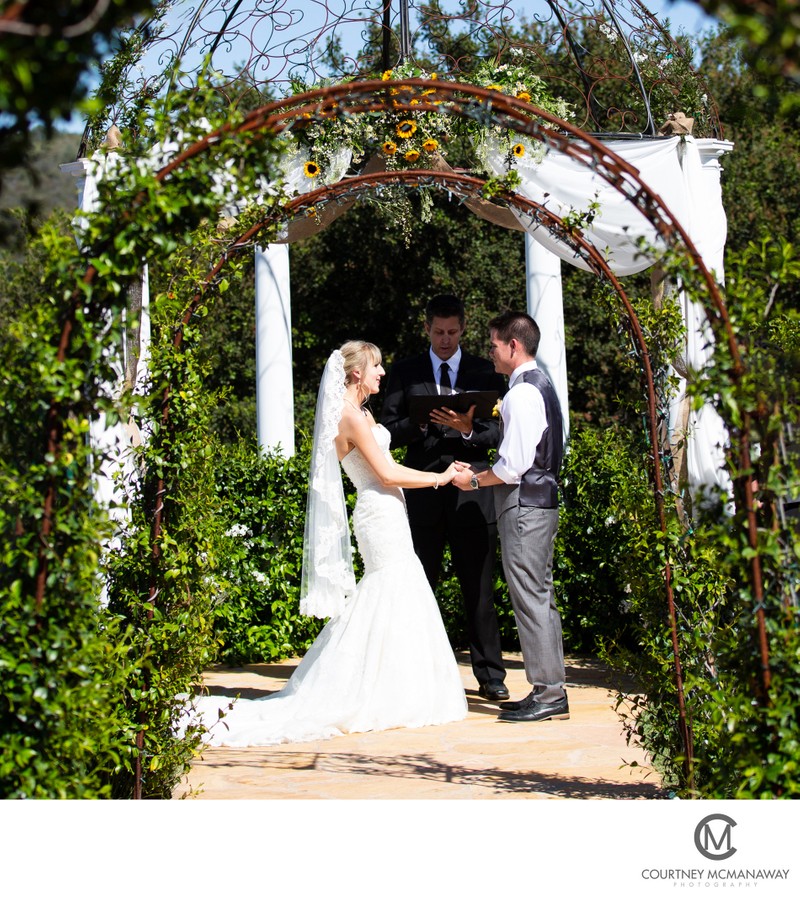 When you get married at a wedding venue, this typically comes with a wedding day coordinator that helps to walk you through "best practices" for your wedding ceremony. Having photographed a number of elopements as a Temecula wedding photographer, I often act as the ceremony coordinator in a giving a few tips to help your ceremony run smoothly and help you get the best photos in the process! Here's are 7 tips for your elopement ceremony!
1. Do the research for your marriage certificate requirements (and fill out in advance of the ceremony)
With couples planning elopements, I often see a friend or family member officiating the ceremony, which is usually very touching and the ceremony is personalized to how they know the couple. However, these honored guests are not officiants, so often they are not familiar with your state's requirements for a marriage license. They typically request the documents from the county - I would recommend asking them to take some pictures and email you copies so you are familiar with the instructions in advance. I've seen couples and officiants get a bit frustrated on a wedding day trying to figure this out, so knowing what you need to do in advance is one simple task to help your elopement run smoothly!
For more information on getting your marriage license in Temecula or Riverside County, check out Getting a Marriage License in Temecula.
2. Plan your ceremony an hour and a half before sunset
One of the best aspects of an elopement is you have the ultimate flexibility in choosing your ceremony time! For gorgeous light during your ceremony, as well as ensuring you have enough light afterwards for family portraits and couple portraits.
For a sample elopement timeline, check out Temecula Elopement Timeline.
3. Wait until one party hits the top of the aisle before sending the next party down the aisle
This is a technical tip, but this allows me as the photographer to get clear shots of your wedding party as they walk down the aisle.
4. Hold florals at your belly button
Another technical tip, but if you have a large bouquet, the florals can obscure your face! Make sure to hold your bouquet at your belly button so it doesn't block your smile (or tears!).
5. Give your bouquet to your maid of honor or someone else so you and your partner can hold hands
This is what I see the most in ceremonies officiated by family and friends! The couple often stands there apart from one another. It's so much sweeter to hold hands! Hand your bouquet to your maid of honor or someone else (heck, I'll take it for you!) so you can hold hands with your spouse-to-be!
6. If you have guests, have your officiant tell everyone to sit down before beginning the ceremony
Your guests will naturally rise once the bride walks down the aisle! I've seen it happen before - if the officiant doesn't tell them to sit, they will stand the entire ceremony! However, they'll sit down immediately once given permission :)
7. Stop and kiss at the end of the aisle!
The kiss at the end of the ceremony often happens so quickly it's nice to get another kiss shot at the end of the aisle! So stop at the end of the aisle and lay another kiss on your new husband or wife!
Wedding Resources
Check out these resources to help you plan your wedding day!
Your Guide to Temecula Elopements, Minimonies & Micro Weddings
Photoshoot Locations in the Inland Empire
Temecula Elopement Photographer