Affordable Temecula Wedding Photography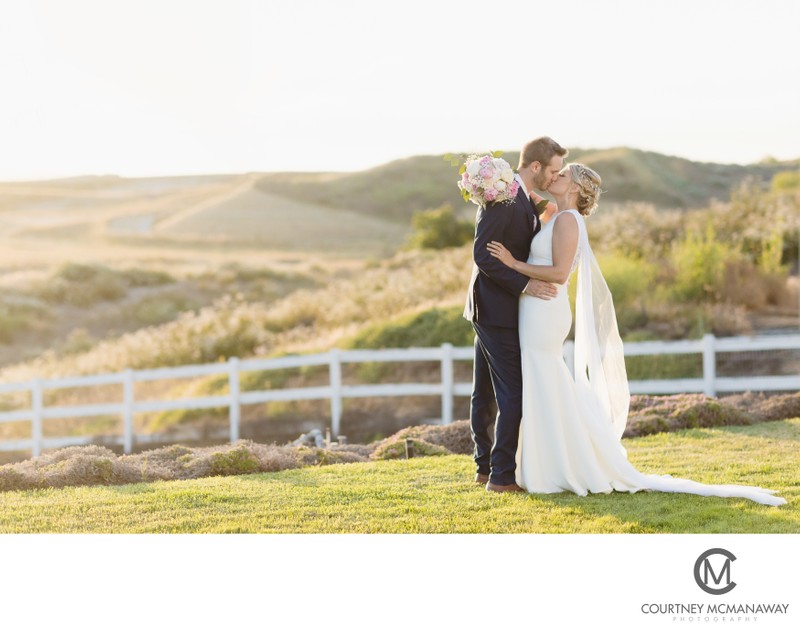 I love to cook, and I don't mind spending more on quality cookware. When my husband and I registered for our wedding, I knew I wanted All-Clad pans. At $200 retail for a frying pan, I wouldn't consider the All-Clad brand cheap. But I DO view it as affordable. We've had our All-Clad pans now for 12 years and I expect to have them for my entire life.
The same thought process can be used when looking for your wedding photographer. Quality and expertise is never going to be cheap - but it can be affordable! As a Temecula wedding photographer, I offer couples collections that feature both high-quality photography and affordability!
What to Look for in an Affordable Wedding Photographer
There's no real standard when it comes to photography pricing, so it's difficult to compare apples to oranges. However, there are common components of a photography collection you can consider to determine what you want and need!
Photography Style
Although not directly connected with affordability, a photographer's style should resonate with you. Whether that's light and airy, moodier tones, authentic emotion, make sure you love your photographer's style and get a good sense of what they deliver to couples post-wedding.
Hourly Coverage
Nearly every photographer has some form of hourly packages. If you're having an elopement, micro wedding, or intimate backyard wedding, you'll need less hourly coverage. On the other hand, if you're getting married at Avensole Winery with 150 guests, you need no less than 8 hours.
Photographer or Photographers
The size of your wedding and the type of photos you want will determine if a second photographer is of value to you. If you're eloping, you probably only need one photographer. If you're having a large wedding and want to make sure all the quick-moving moments of your day are captured, you'll definitely want two photographers.
Deliverables
Deliverables often included in wedding collections include digital JPEG files and albums. When an album is included in a collection, it will increase the cost of the collection.
Extra services
Engagement sessions can either be included in a collection or offered separately. Sometimes digital files are not included in an engagement session; it's always worth asking. Additional services may also include adding a second photographer, additional hourly coverage, and products such as prints and albums.
Overall, you never want to assume anything is included! Don't be afraid to get clarification if something is unclear.
Average National Wedding Photography Investment
You can't talk about affordability without discussing averages. So what does the average couple spend on their wedding day photography?
According to TheKnot.com, in 2019 couples spent $2,400 on average for their wedding photography. The article indicates that services provided at this price point vary wildly, which any couple searching for a wedding photographer knows! But what about the Temecula market?
Average Temecula Wedding Photography Investment
I went through the top Google results for "Temecula wedding photographer" to get a better understanding of the Temecula photography market. Looking at the starting rates as shown on photographers' sites (including mine!), the average Temecula wedding photography investment is $3,219. As you can see below, the hourly coverage, number of photographers and if files are included vary. Many photographers don't put their detailed package information on their pricing and investment pages, so couples have to inquire to receive more information.
| | | |
| --- | --- | --- |
| Photographer | Price | Included |
| Photographer 1 | $1,800 | 1 photographer, 5 hours, digital files |
| Photographer 2 | $2,200 | Details not disclosed |
| Photographer 3 | $2,500 | Details not disclosed |
| Courtney McManaway Photography | $2,700 | 2 photographers, 6 hours, digital files |
| Photographer 4 | $2,500 | 8 hours |
| Photographer 5 | $3,000 | 1 photographer, 5 hours, digital gallery |
| Photographer 6 | $3,100 | Details not disclosed |
| Photographer 7 | $3,200 | Details not disclosed |
| Photographer 8 | $3,600 | 1 photographer, digital files (hours not disclosed) |
| Photographer 9 | $3,750 | Details not disclosed |
| Photographer 10 | $4,000 | 8 hours of coverage |
| Photographer 11 | $4,500 | 3 photographers, 9 hours, engagement session |
| Photographer 12 | $5,000 | 2 photographers, digital files |
| | |
| --- | --- |
| Average Temecula Wedding Photography Investment | |
There's No Substitute for Experience
My husband is a super-handy guy. The first two years we lived in our two-story house in Lake Elsinore, he decided he would take on the task of hanging up Christmas lights on the second story. This ended up being a two-day process where I helped out when I could, but mainly looked on in sheer terror hoping he wouldn't fall from the ladder.
Our third year in our home, we decided to pay someone to put up our Christmas lights. It wasn't cheap, but this guy was a total pro. What had taken me and my husband 2 days took him about 45 minutes. It was clear he had hung exterior lights hundreds of times and because of that, what was a struggle for me and my husband was just another day at the office (or on the roof) for him!
This is one of the most important factors you should consider when searching for a photographer. What you're ultimately hiring in a wedding photographer isn't just a "nice camera" - it's experience! Like the professional who hung our lights, seasoned wedding photographers have photographed hundreds of weddings and that experience allows them to quickly make decisions on an often-unpredictable day to give their clients the very best results.
Photographing hundreds of weddings and family portrait sessions has taught me a tremendous amount over the past 12 years so I can react quickly on a wedding day to produce the best images and experience for my clients. This type of experience is never going to be the cheapest. My recommendation to any engaged couple looking for their Temecula wedding photographer is to consider a variety of factors to get the best photographer you can afford that matches your style and the services you desire on your wedding day. And remember after the cake is cut and the final song is played at your reception, your photos will be what you are left with to remember your wedding day!
My Affordable Wedding Pricing
Just like Goldilocks, I want my clients to have a collection that is juuuuuuust right. These are the components I think are most important to my wedding clients.
Smaller Collections for Intimate Weddings
Couples eloping or having a micro wedding simply don't need all the bells and whistles! I have put together packages specifically to meet the needs of those clients. See my pricing and tips on planning your elopement or micro wedding below!
Your Guide to Temecula Elopements, Minimonies and Micro Weddings
Two Wedding Day Photographers for Larger Weddings
For collections 6 hours or longer, having a second photographer is a huge asset to get all those special and quick-moving wedding day moments, as well as having someone to separately photograph getting ready, cocktail hour, all your specially chosen decor. Clients never regret having more images from their day!
High-resolution JPEG Files
For both engagement sessions and the wedding day, I provide my clients with an online digital gallery of high-resolution JPEG files they can download to their hearts' content!
Optional Add-ons
Although I believe adding an engagement session is a fantastic idea, it's not a fit for all couples. Nor is having a wedding day album. Not bundling these in my collections gives my clients flexibility, and of course, makes my wedding photography pricing more affordable!
View my Wedding Photography Pricing page for more information on my collections!
Temecula Wedding Planning Resources
Pros and Cons to a Wedding Day First Look
Temecula Engagement Photo Locations
Temecula Elopement Photographer