California Botanic Garden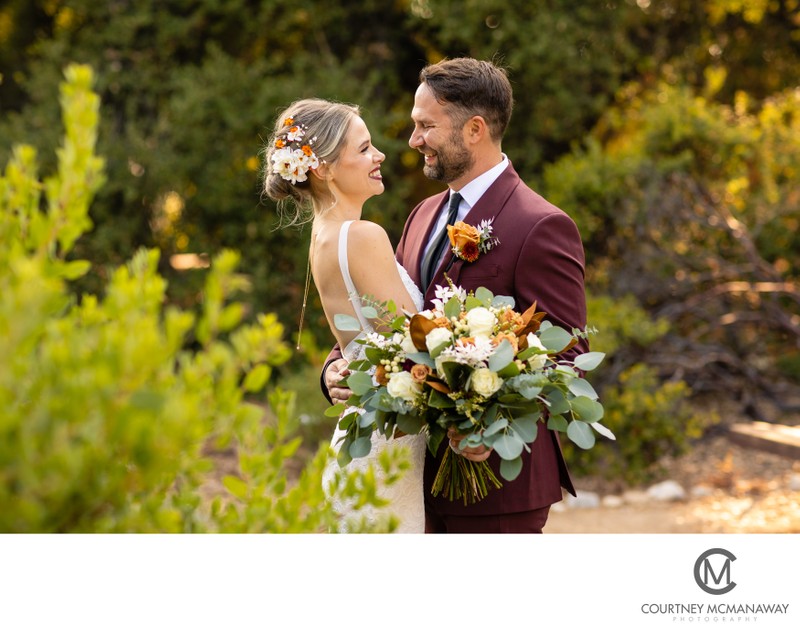 California Botanic Garden Wedding Venue
California Botanic Garden is one of Southern California's most beautiful wedding venues! Couples today want wedding venues that feel unique and special; this garden-style venue feels exclusive and distinctly Californian with an outdoor atmosphere where couples are surrounded by mature oak trees and native California plants! As a Claremont wedding photographer, I've been fortunate to photograph at this outdoor wedding venue!
Location
California Botanic Garden is located at 1500 N College Ave, Claremont, CA.
History
Rancho Santa Ana Botanic Garden has an incredibly interesting history! Founded by Susanna Bixby Bryant, 200 acres were set aside as a native plant garden on her estate in Yorba Linda. In conferring with a botanist, Bryant was cautioned to reduce the size of the garden to 50 acres. Her response was, "In the traditional feminine manner I am going to compromise by going ahead with my original scheme." Fires impacted the natural gardens, however, and in 1951 the location of the Botanic Garden was moved to the 86-acre estate in Claremont. You can read the full history here.
Where to Get Ready
My personal recommendation for getting ready is Hotel Casa 425, a boutique hotel located at 425 W 1st St, Claremont, CA. This hotel has large, gorgeous rooms that make for the perfect setting for getting-ready pictures of your wedding party! It's 1.5 miles away from the Botanic Garden.
Wedding Capacity
California Botanic Garden can accommodate up to 400 guests within two facilities. Both facilities are located outdoors in open-air settings.
Ceremony Options
Cultivar Garden Large Gazebo - the Cultivar Garden Large Gazebo is the best option for most standard weddings. Your guests can be seated within the gazebo, which overlooks a reflecting pond.
Cultivar Garden Small Gazebo
- the Cultivar Garden Small Gazebo is the best option for more intimate events. The space can accommodate up to 30 guests standing.
Reception Options
California Courtyard - the California Courtyard can accommodate up to 400 guests in theater-style seating for a ceremony, or 280 seated at tables for a reception. The space can be tented and electricity is available.
Container Garden
- the Container Garden option is a more intimate space surrounded by an artistic structure. This site can accommodate up to 150 guests theater-style, or up to 100 guests seated for a reception.
Wedding Vendors
California Botanic Gardens allows couples to bring in their own vendor teams. All catering and bar service needs to go through As You Like It Events & Catering. Other vendors such as floral designers, photographers, videographers, DJ, etc., may be brought by the couple. Design and decor of the reception and ceremony space shall be done with respect to the Botanic Garden's wildlife safety and care.

Unique Features of Rancho Santa Ana Botanic Garden for Your Wedding
Botanic Garden Setting
There's no shortage of outdoor wedding venues in Southern California, but California Botanic Garden has a very different feel compared to venues like wineries or country clubs. Couples and their wedding guests will have views of the San Gabriel mountains, oaks, and native California plants. The setting is not only gorgeous, it makes for a gorgeous backdrop for your wedding photos!
Secluded and Dedicated Wedding Space
While the Botanic Garden is a public garden, the ceremony and reception sites are set back in the garden. This gives your wedding day a private and exclusive feel.
Bring in Your Own Wedding Day Vendor Team
Many couples are concerned with wedding reception costs, and having your wedding day at a venue where you can bring in your own vendor team is a great way to save money.
Ceremony and Reception Options
The Botanic Garden can accommodate both full weddings and intimate ceremonies. For those interested in a ceremony only, couples receive access to the ceremony site for 2 hours and changing rooms for the couple. Full weddings and receptions have the space for 6 hours, also with access to changing rooms for the couple.
California Botanic Garden Contact Info
Website
Address
1500 N College Ave, Claremont, CA 91711
Phone Number
Email
Social Media
Instagram: California Botanic Garden
Facebook: California Botanic Garden
California Botanic Garden Wedding Photos
I was fortunate to photograph Stephanie + Tim's gorgeous wedding day at the Garden! You can see some images from their day below, or click on the link below to see the full post!
California Botanic Garden Wedding