Claremont Wedding Photographer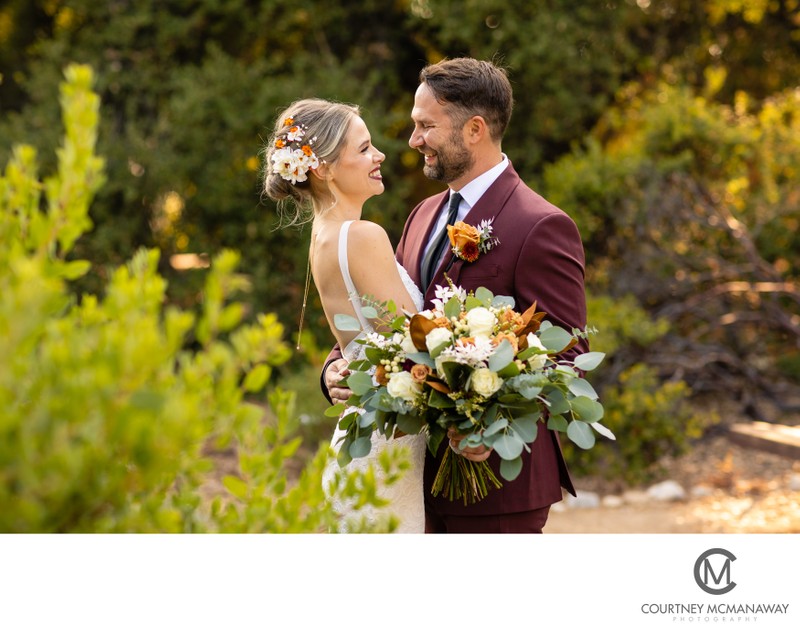 Is it okay to call Claremont Pasadena's little sister? I'm sure the long-time residents of Pasadena might disagree, but as a wedding photographer, this gem of a city is one of my favorite destinations in Southern California! It has all the benefits of a small city without being overwhelming or hard to navigate - a bustling downtown area with unique retail stores and restaurants, a gorgeous college campus that brings to mind east-coast architecture, and one-of-a-kind botanical gardens. It's a beautiful place to have a wedding - particularly if you have guests coming from multiple cities in Los Angeles, Orange County, and the Inland Empire!
See more information on Claremont weddings below - truly everything you need to know from accommodations for your wedding guests and obtaining your marriage license, to recommendations for the best restaurants and activities for your guests!
Everything You Need to Know About Claremont Weddings
Location
Located north of upland and east of Pasadena, Claremont is a city right on the edge of both the Inland Empire and Los Angeles. Claremont is north of the 10 freeway, and easily accessible via major freeway routes.
Accommodations
Claremont has 5 major hotels to serve out-of-town guests.
Air Transportation
The closest airport is Ontario International Airport (ONT), which is 10 miles from Claremont. Other close-by airports include Orange County International Airport (SNA) at 38 miles away, and Los Angeles International Airport (LAX) at 47 miles away.
Weather
Located in inland Southern California, Claremont will have hotter and drier summers compared to coastal cities. The hottest month is typically July, with an average high of 89 degrees; January is the coldest month with an average high of 62 degrees. The hot season is considered from June through September; the rainiest months are generally from late November through early April. Like most cities in Southern California, humidity is low and you can expect the temperature to cool quickly once the sun sets.
Popular Wedding Months
Most weddings take place in Claremont from May - October. Keep in mind if you're getting married outside those months, you may have to adjust your timeline to accommodate an earlier sunset time. See Wedding Timelines for Every Season for more information.
Obtaining a Marriage License in Los Angeles County
If you're getting married in California, you can get your marriage license at any county in the state of California. If you're located close to Claremont, you'll want to get your marriage license via the Los Angeles County Registrar.
The current fee for a marriage license is $91. You must fill out an application and make an appointment to pick up your license. Both parties must be present and have valid ID in order to pick up the marriage license. Once issued, the license is valid for 90 days.
The completed license must be mailed back to 12400 Imperial Highway, Norwalk, CA 90650.
For up-to-date information on obtaining a marriage license in LA County, see the county's Marriage License information page.
Claremont Venue Types
Claremont has a number of venues to fit your wedding style. These include stately college campuses, a botanical garden filled with native California plants, and an estate overlooking a grove of olive trees.To view a list of some of the most popular wedding venues in Claremont, see my article on Wedding Venues in Claremont, CA.
Venue Discounts
Venues have a unique approach to discounts, and you'll want to inquire individually with each venue. Generally, the more vendors you're able to bring into your venue, the more you're likely to save. Venues may have preferred or even exclusive vendor relationships. Venues may also offer discounts for non-holiday Friday, Sunday and weekday weddings, as well as off-season weddings (generally November - February).
Event Size
Claremont venues can accommodate an event of nearly every size. The venue that has the most capacity in Claremont is Scripps College, which can accommodate up to 400 guests. Most other event venues will accommodate 100 - 300 guests. Venues with in-house catering also typically require guest minimums, particularly for weekend and holiday weddings.
Multiple Events per Day
Larger venues in Claremont have the ability to accommodate multiple events, such as Scripps College, Pomona College and the DoubleTree Hilton Claremont. Venues that offer multiple event reception spaces also have the experience and staff to ensure these events are successful. However, it's important to note you will not have exclusive access to the property, and perhaps may be restricted to your specific venue area.
Bringing Vendors into your Venue
Most venues have at least a catering and bar service vendor or in-house team wedding couples will be required to use. The one exception to this in Claremont is Claremont Heritage's Garner House, where you can bring in your own catering team. Note that most venues still require approval of all vendors, and may also require your vendors' insurance liability certificates.
Vendor Discounts
Vendor discounts are also variable. You're more likely to get vendor discounts for weekday weddings when demand isn't as high, but this isn't a guarantee. Inquire with each vendor individually for your event.
Claremont Engagement Session
Claremont has a number of great locations for engagement sessions, including Claremont Village, the Claremont Metrolink, and the Pomona College campus. See an elegant engagement session that took place in Claremont below!
Claremont Engagement Photographer
If you're looking for ideas for engagement photo locations in the area, Inland Empire Photoshoot Locations offers a plethora of options!
Activities in Claremont
There's no shortage of fun things to do in Claremont! See the list below for an activity to accommodate any interest!
Golfing
While there are no golf courses within Claremont, there are several within a short driving distance. These include Mountain Meadows Golf Course in Pomona, Marshall Canyon Golf Course in La Verne, San Dimas Canyon Golf Course, and Upland Hills Country Club.
Outdoors
For those who want to enjoy the gorgeous weather Southern California offers nearly year-round, a hike at Claremont Hills Wilderness Park offers beautiful views. Mount Baldy is only 12 miles away from Claremont and offers year-round dining and activities.
Shopping
Claremont Village is Claremont's downtown epicenter, filled with boutique shops and independent restaurants. Free parking is available on every block. A must-see is the Claremont Packing House which features artisan restaurants, shopping, and art and cooking classes.
Kid-Friendly
Kids that love the outdoors will enjoy a trip to California Botanic Garden or a hike at Claremont Hills Wilderness Park. Mount Baldy is a fun option during the winter for skiing, snowboard or sledding - although be aware during peak season reservations are required. The Alf Museum is a must-see for budding paleontologists. Studio Claremont offers engaging art lessons to children and Lost Levels Arcade has an abundance of retro arcade games. Hop on the Claremont Metrolink to get to a variety of cities and enjoy the view without the traffic!
Nightlife
Claremont Village is the destination for food and fun in the evening. Some of the most popular restaurants include The Whisper House, Bardot, Kazama Sushi, and Tutti Mangia Italian Grill. PianoPiano is a dueling piano bar known for a rowdy, fun atmosphere. Local bands can be heard at The Press Restaurant or Espiau's. Get some craft drinks at Ironbark Ciderworks or Claremont Craft Ales.
Claremont Wedding Locations Map
To see a map of all the locations mentioned in this article, see the link below.
Claremont Wedding Locations Map
Claremont Wedding Photographer
Wedding Planning Resources
Pros & Cons to a Wedding Day First Look
Claremont Engagement Photographer
Wedding Venues in Claremont, CA