Photoshoot Locations in the Inland Empire
Now booking 2020 Mini Sessions! See the link below to reserve your session!
As a Temecula-based engagement and portrait photographer for over 10 years now, I'm very well-acquainted with photoshoot locations in the Inland Empire! Whether you're looking for a rustic nature setting for your family portraits, or a downtown urban feel for your engagement photos, you'll find a spot you love in the Inland Empire.
What is the Inland Empire?
Great question! The Inland Empire is expansive, and includes parts of Los Angeles, San Bernardino and Riverside Counties. It's not officially defined. The name is derived from when the area was filled with orange groves, and thus called the Orange Empire. Over time, the evolved to be called the Inland Empire, by way of indicating the land was inland from the Pacific Ocean.
The First Question I Ask Clients When Discussing Portrait Session Locations
"What type of background do you see your photos in?" This immediately helps to narrow down the location I will photograph their engagement or portrait photos.
Inland Empire Photoshoot Location Types
There are two types of locations I recommend, and I always ask clients in what type of setting they "see" their finished photos.
Wilderness Parks
If I'm shooting in a nature setting, I like to avoid small, local parks with playground equipment. Jungle gyms do not make good backdrops, and forget about your children staying focused on the family once they see swings! Additionally, with the sun being an ever-present gift in the Inland Empire, I look for large, mature trees to create shade and dappled backdrops, as well as block some of the intense light. These types of wilderness parks are also less likely to have a lot of people in the background.
Downtown Urban Centers
A downtown hub will have no shortage of buildings and structures to make your pictures look interesting! For larger groups, downtown spaces have more natural structures to provide variety to your photos. Think of stairs, alleys and arches! Cities, of course, tend to be a bit more crowded compared to tranquil nature settings, but that can be some of the appeal as well!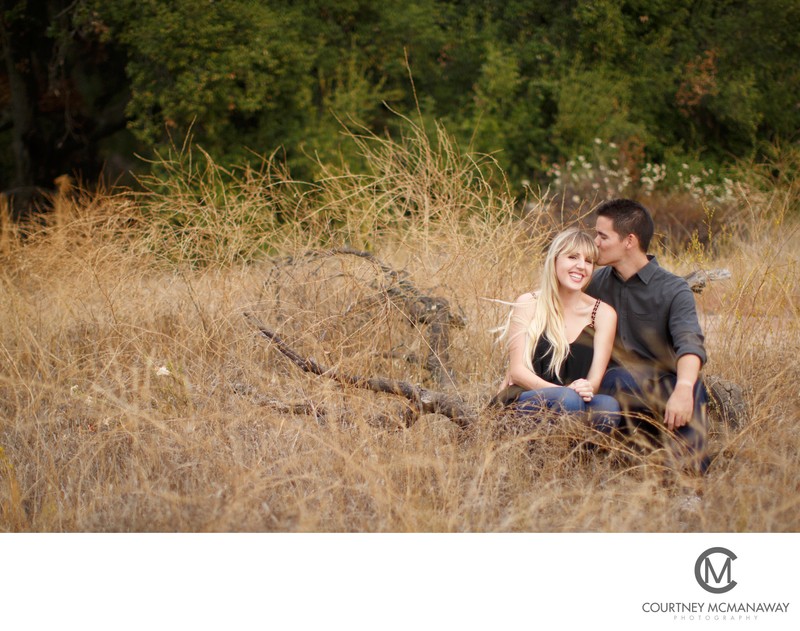 My Favorite Inland Empire Photoshoot Locations
There is simply so much space that it's hard to narrow down to a few spots! But below are my favorite spaces, and the ones I recommend to clients time and time again.
Inland Empire Outdoor Park Photoshoot Locations
Santa Rosa Plateau, located in Murrieta, is an incredible location for photos! Comprised of 8,400 acres, there are trees, boulders, trails, grassy fields, you name it! I have photographed many sessions at Santa Rosa Plateau and there is no shortage of beautiful backdrops for your family or engagement photos. The plateau has occasionally been affected by fires, and sometimes certain areas are closed, so keep that in mind when planning your session.
Glen Arbor Park
Glen Arbor Park, located in Murrieta, is another beautiful location that will give you that "fall color" feeling with a variety of large trees. This is a neighborhood park, which I typically don't love for portrait sessions, but the trees and trails make it perfect for outdoor photography. There is no parking lot for Glen Arbor Park; you need to park in the adjacent neighborhood and plan on an extra few minutes to walk to the park.
Oak Glen Preserve, located in Yucaipa, is another picturesque outdoor location. Riley's Farm is a well-known historic apple orchard and a very popular location for family and engagement portraits. Spring and fall are the best times to schedule a session here! It's hard to find "fall color" in many areas of the Inland Empire but this spot definitely delivers! :)
Wildwood Canyon State Park, located in Yucaipa, is rustic perfection for a portrait session! At over 900 acres, there are lots of beautiful ancient oaks, trails, and grassy fields to wander in. I would say this location is similar to Santa Rosa Plateau in the rustic nature feel it will add to your portrait images.
This is another gorgeous space with beautiful botanic variety (as you would imagine)! Areas of the garden have different botanical themes that closely mimic wooded or desert spaces. This area is very popular with photographers, and I recommend a weekday shoot in possible. Additionally, if you're looking to get sunset light, you won't be able to do so in the summer, since the garden typically closes at 5:00. It's still a beautiful location and well worth considering! Parking is limited directly outside the entrance, and paid by meter, so I recommend getting on location early and planning for a bit of a walk before your session starts.
Prospect Park, located in Redlands, has an amphitheater, orange grove, and unique bamboo arch that has been well-photographed! It's a beautiful location with lots of variety. The lake and large trees in Prospect Park remind me of Big Bear!
Temecula Wineries
A caveat with this location is that quite often, you can only have an engagement or family session with the permission of the winery, unlike the rest of the locations on the list! A free session at a Temecula winery is one perk of getting married at a winery - they are always happy to oblige for their engaged couples!
Humphreys Estate
Humpreys Estate is a gorgeous estate property featuring ivy-covered walls and houses, brick architecture, and mature trees. Humpreys Estate can be rented for your family or engagement session; learn more below!
Humphreys Estate Engagement Session
Dos Lagos Park
Dos Lagos Park is located in Corona, adjacent to the Shops at Dos Lagos. The main reason this is a beloved portrait location has to do with the unique bridge spanning the lake. As you can image, being right next to a mall means it's very busy on the weekends! There's some beautiful stone steps and across the bridge, tall grasses and a small grove of trees.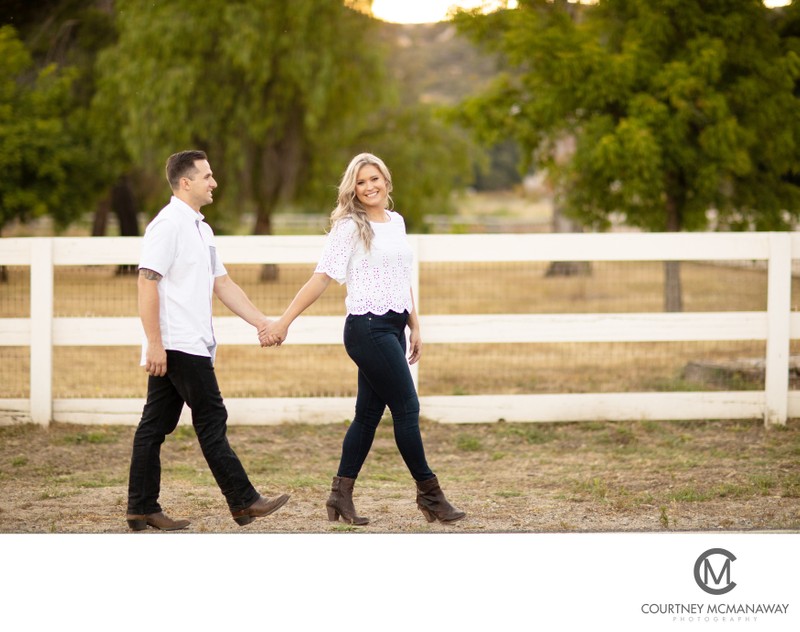 Inland Empire Downtown Photoshoot Locations
Riverside is one of my favorite engagement session locations because of the diversity of the area. Within the Inland Empire, downtown Riverside is, hands-down, the very best downtown area. It's also adjacent to multiple parks and open spaces. This makes it ideal for couples who might want to "split" their engagement session between a downtown area and park location.
Old Town Temecula's downtown space has kept much of its Old West heritage in the buildings and structures. There are a lot of great spaces in the downtown area - I prefer the theater, which is close to the beautiful rust-colored bridge and City Hall. Events are a concern here; weekday sessions make for easier parking and fewer bystanders in your photos. There's also a few pretty fields nearby, which makes Old Town Temecula ideal if you'd like to split your session between a downtown setting and outdoor space!
There's some disagreement about whether Claremont is part of the Inland Empire! Since it's so close to Ontario, and it's also an excellent location for photos, I thought I'd throw it in! In particular, Claremont Village and Scripps College make for fun and gorgeous backdrops.
See a Claremont engagement session at Pomona College here: Claremont Engagement Photographer
Redlands is another fantastic downtown area that's retained much of its original charm. Lots of gorgeous brick buildings, and the train station has stately columns and arches! One of the most memorable features is the ceiling of umbrellas at Orange Street Alley!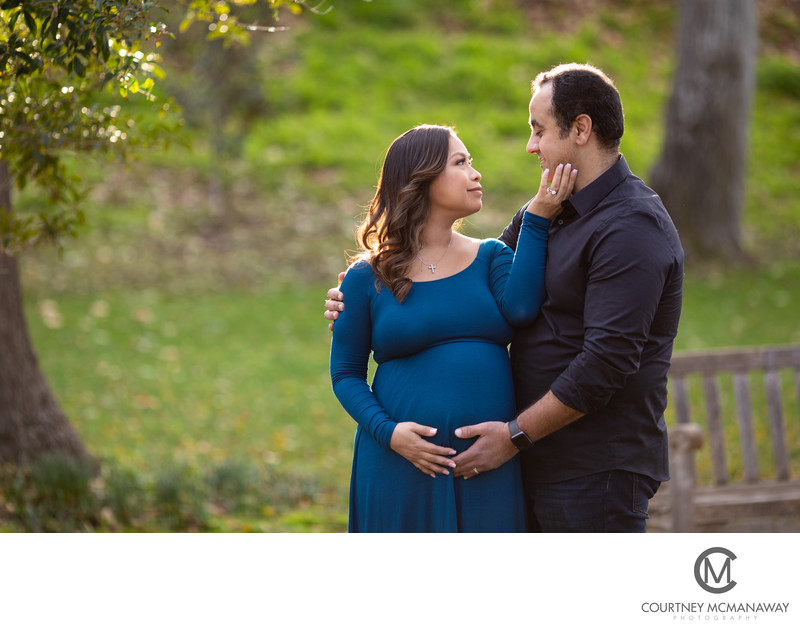 Inland Empire Photoshoot Locations Map
For a map of all locations mentioned in this article, click here!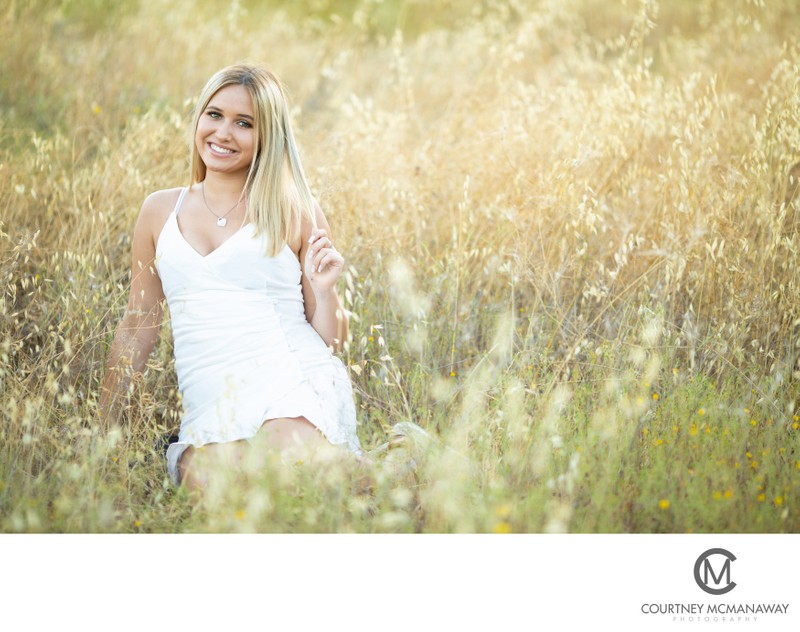 Inland Empire Portrait Photography Prices
Please see my Portrait Pricing page for up-to-date portrait pricing! Take a look at my Engagement and Family portfolios as well!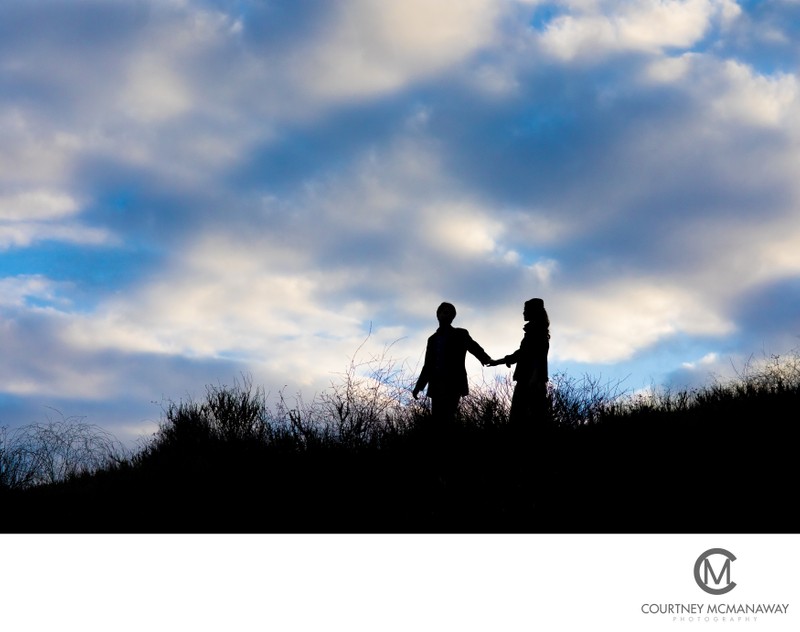 Now booking 2020 Mini Sessions! See the link below to reserve your session!
Check out these posts for more information on Inland Empire portraits and weddings!
Temecula Family Photography
Temecula Engagement Photo Locations
Riverside Maternity Photographer
Temecula Senior Portraits
Murrieta Ranch Engagement Session

Inland Empire Photographer

Hi, I'm Courtney! I have over 10 years of experience working with couples and families for their wedding, engagement and portrait photography needs. I would love to capture this special moment in your lives! Head on over to my Contact page to get in touch!
Home About Weddings Wedding Pricing Engagements Family Portraits Portrait Pricing Contact