How to Get Married in Temecula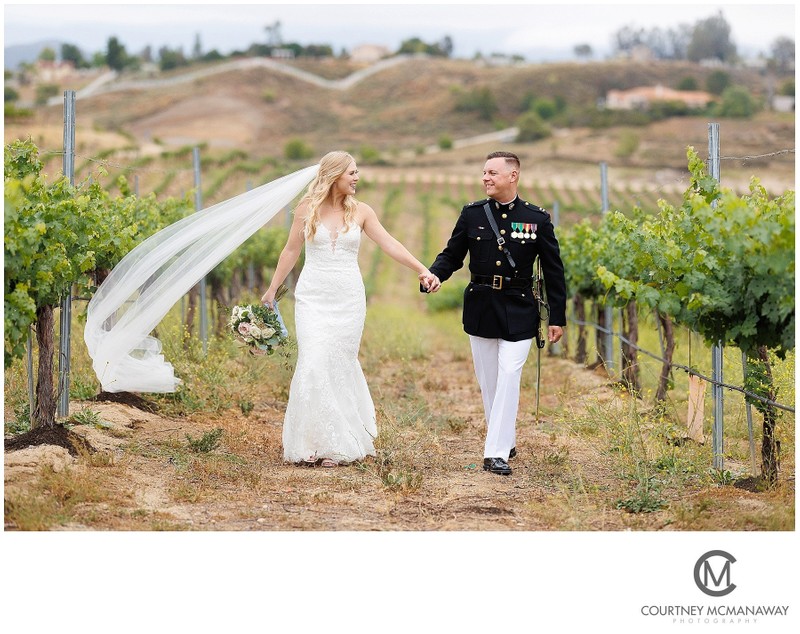 We've all seen the movie trope with the shy high school "nerd" pining for the popular football star. In one magical night, she removes her glasses, puts on a sparkly gown, and suddenly everyone realizes she's gorgeous and amazing!
The high school "nerd," in this case, is the story of Temecula. For a long time, Temecula was a much-ignored city in the Inland Empire of Southern California. An LA Times story published in 1989 noted no one knew where the heck Temecula was located when local residents referred to their city.
Over the past few decades, Temecula has shed her nerdy glasses and, to modify a quote from one of my favorite movies, Zoolander, "Temecula's so hot right now."
Temecula is considered one of southern California's "hidden gems" for couples looking for a wedding destination. Located in Riverside County, Temecula has been deemed a resort town, with a high concentration of wineries, golf clubs, and upscale accommodations for guests.
Temecula is best known for its wineries, with over 40 licensed wineries currently in operation. While one wouldn't typically think of the Inland Empire as a great region for growing grapes, my research informed me the decomposing granitic soil and high drainage due to sand content is great for growing grapes (hey, I guess you learn something new every day!).
As a Temecula wedding photographer, I work with a lot of couples that are coming out here for their destination wedding! Not only do I help them find the best Temecula venues and vendors, I put this guide together to help them get familiar with the area and give their wedding guests guidance on where to stay and where to have fun!
Location
Temecula's located roughly halfway between Los Angeles and San Diego, although it's 27 miles closer to San Diego. This makes it an attractive option for couples in southern California who want a destination-style wedding without the hassle of getting on a plane. Temecula is located off freeway 15.
Accommodations
There are a number of wineries that have hotel rooms to accommodate both your wedding day and your guests! These venues include Ponte Inn, South Coast Winery, Carter Estate Winery, Temecula Creek Inn, and Inn at Churon Winery. In general, the wineries right on winery row are going to be the more expensive options for accommodations. Additional hotel options are closer to Old Town Temecula, such as Springhill Suites, Embassy Suites, and Ramada Inn. These hotels are about 5 miles away from the Temecula wineries on Rancho California Road.
Air Transportation
The closest airport is Ontario International Airport (ONT), which is 57 miles from Temecula. San Diego (SAN) is 65 miles away. John Wayne Airport in Santa Ana (SNA) is 71 miles away.
Weather
Southern California is known for beautiful, sunny weather but inland southern California can get quite hot in the summer. August is the hottest month in Temecula, and it's not unusual for the temperature to exceed 100 degrees. The area cools down quickly after the sun sets, but hot summer weather can make outdoor wedding portraits miserable, so keep that in mind when choosing your wedding date! February is the rainiest month, although the past several years rainy season has extended into April. It's important to ask if your venue has a rain plan if you're getting married in the spring.
Popular Wedding Months
Most weddings take place in Temecula from April - October. This span of months represents the growing season, and of course, most couples getting married in Temecula want pictures of themselves in the vineyard with leaves and grapes on the vines! I've photographed weddings well into November when leaves were still bountiful (although the grapes had been harvested). All the wineries have Instagram accounts and they post "bud break" in the spring, so follow your favorite venues to see when the grapes start growing!
Obtaining a Marriage License in Riverside County
The COVID-19 pandemic has altered how marriage licenses are issued. Check the Riverside County Clerk website for updated information.
Marriage licenses for Temecula weddings are issued by Riverside County. The County Clerk issues licenses Monday through Friday, 8:00 AM to 4:30 PM. Both parties must come into a county clerk office together, be over 18 years of age, and have valid, current picture identification. The state of California recognizes and issues licenses for same-sex marriages.
The current fee for a marriage license is $90. The county clerk recommends filling out an application in advance of your office visit, which will stay in the system for 120 days. Marriage licenses are good for 90 days once issued.
If either party has been divorced within the past 90 days, you are required to bring a copy of the final dissolution. If the divorce was more than 90 days ago, you do not need a dissolution, but you do need to provide the date the divorce was finalized.
The marriage license can be used in any county in the state of California.
The completed license must be mailed back to 2724 Gateway Dr, Riverside, CA 92507. You will be provided with an envelope to make it easier to mail back the license.
Licenses must be mailed back within 10 days following the ceremony.
Venue Types
Like many major cities, there are lots of venues to accommodate nearly any style. Most commonly you'll find venues described as wineries, estates, ranches, and farms. These venues take advantage of the beautiful outdoor weather in southern California, and all the venues have thoughtful landscaping and outdoor features. There are also golf courses, traditional hotels, and even casinos. Whether you're planning an elegant wedding day or a more rustic affair, there's a venue fit for you in Temecula.
To view a list of some of the most popular wedding venues in Temecula, see my article on Temecula Wedding Venues.
Venue Discounts
Each venue has an individual approach to discounts. Most venues will offer some type of discount for a weekday wedding (whether this includes Friday is up to the venue). You're more likely to get reduced pricing for your wedding if you get married in what's considered the "off-season," November - March. There's no standard when it comes to discounting and of course the more popular the venue, the less likely they will have special rates.
Getting Married at a Winery
Wineries are open to the public. They typically close to the public at 5:00 PM. What this means for couples getting married is that the venue will not be completely private to you and your guests and it may impact some of your wedding preparations and photographs. Most wineries have a separate general "wedding" area apart from the tasting area. During the summer months, the most popular wineries will have lots of people coming through for tastings. This may not be a downside for your day, just something to keep in mind. If you're having a first look and want some images around the winery before 5:00 PM, you will have to contend with some non-wedding guests. As a photographer, I'm always happy to ask people to get out of the background of your image (and once people see the wedding attire, they're happy to do so!).
Event Size
Temecula venues can accommodate an event of nearly every size. The largest winery, Wilson Creek Winery, is able to host up to 1,000 guests. Most other event venues will accommodate 100 - 300 guests.
Multiple Events per Day
Larger venues in Temecula have the ability to accommodate multiple events. These venues have multiple staff supporting these events, and the experience and knowledge to help each event run smoothly. The only potential impact is you and your guests won't have exclusive access to the property.
Bringing Vendors into your Venue
Each venue has a unique approach to the vendors that couples are permitted to bring into the venue. Some venues will only permit approved professionals to work on their property. Every venue will have a list of preferred vendors. Nearly all Temecula properties will require your vendors to provide them with a liability insurance certificate.
For a comprehensive list of vendors serving the Temecula market, check out this article!
Vendor Discounts
Each vendor has an individual approach to discounting and you should inquire with each professional or company.
Catering
Your venue will either have on-site catering or a relationship with a preferred catering company. A common exception will be for your bakery providing your cake or desserts.
Hard Liquor
Most winery venues serve wine and sometimes beer. A few venues, such as Falker Winery and South Coast Winery, also have a liquor license and are able to serve a full bar at your event.
Sparklers
Sparklers have become more popular in the past few years; however, all forms of fire (especially at night...and especially with libations!) are extremely dangerous in southern California. Riverside County law does not permit the use of sparklers at venues.
Activities in Temecula
There's no shortage of fun things to do in Temecula! See the list below for an activity to accommodate any interest!
Wine Tours
If you're getting married in Temecula, chances are you love wine! You can book a guided tour with several companies, or set up a self-guided tour.
Golfing
There are a number of golf courses in Temecula, including Temecula Creek Inn, CrossCreek Golf Club, Journey at Pechanga, Legends Golf Club, and Redhawk Golf Course.
Outdoors
If you're looking to get in a hike, Santa Rosa Plateau is one of the best nature preserves, located off freeway 15 in Murrieta (a short drive from Temecula). If you love horseback riding, companies such as Vin Hestin Trail Rides offer a fun outdoor experience. There are a number of hot air balloon companies that operate out of Temecula, such as Magical Adventure Balloon Rides.
Casinos
The largest casino in Temecula is Pechanga Casino.
Old Town Temecula
Old Town Temecula has no shortage of fine dining. Check out a play at the Temecula Community Theater and satisfy your sweet tooth at Old Town Sweet Shop.
Shopping
For those looking to shop, Temecula's largest major mall is the Temecula Promenade.
Kid-Friendly
There are plenty of activities for those with kids! Make some new friends with a visit to The Alpaca Hacienda. Sugarplum Farm is an outdoor petting zoo and chocolate shop as well! Pennypickle's Workshop helps kids discover the wonders of science through play. Harveston Lake Park is a beautiful park with a walking path, several play structures, and paddle boat rental if you'd like to take a spin around the lake!
Nightlife
Old Town Temecula is a great place to go for the afterparty! I can personally recommend several excellent restaurants including PUBlic House, Blackbird Tavern, The Goat & Vine, and a new recent favorite, The Nightingale. Several establishments such Baily's Old Town Temecula has live music. For more information on events in Old Town Temecula, see Visit Temecula Valley.
Temecula Wedding Resources
Your Guide to Elopements, Minimonies & Micro Weddings
Temecula Engagement Photo Locations
Temecula Wedding Photographer