Paradise Vacation Estate Wedding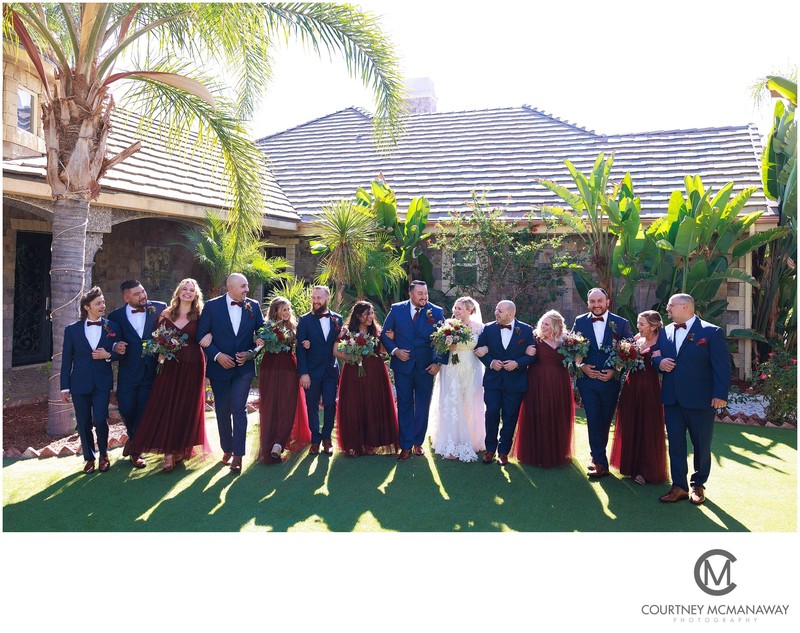 The past few years I've been photographing more and more Temecula weddings at Airbnb-type estate properties! There's no shortage of these in the Temecula area and they really make for gorgeous settings for wedding days, and they often have more flexibility for couples looking for something a little different!
I photographed Kathleen + Ariel's wedding day at Paradise Vacation Estate. It's a beautiful property that's ideally set up for weddings! As a bonus, it was also fantastic for Kathleen + Ariel to be able to stay on-site overnight and start their wedding day at their wedding venue!
For estate weddings, I HIGHLY recommend bringing in a wedding planner! There's a lot of coordination that a traditional venue takes care of or already has on-site. The talented Iman of Iman Lee Events coordinated Kathleen + Ariel's wedding day and it could not have gone more smoothly!
As Iman was hands-on with the Paradise Vacation team, I asked what she enjoyed about planning a wedding at this sprawling estate!
"I enjoyed:
That you have to book their catering for your actual event date

That they include tables, chairs and linens

That they have a fabulous groundskeeper who is in charge of the event and will help out with anything



Overall it is a fabulous and easy venue in the end since they have everything organized for events."
Paradise Vacation Estate Location
Paradise Vacation Estate is located off of Pauba Rd, between Butterfield Stage and Anza Road. It's in the heart of Temecula Wine County, and close to wineries such as Thornton Winery, Fazeli Cellars, and Temeku Hills.
Paradise Vacation Estate Capacity
Kathleen + Ariel had about 130 guests on their wedding day, so the estate is able to accommodate a larger number of guests. The property also sleeps up to 34 people, which makes it a convenient choice if you'd like for your family and friends to stay at the property overnight - or even host your rehearsal dinner there as well!
Property Manager
Paradise Vacation Estate has a property manager to help as a go-between for planning your event. This is not to be confused with a wedding planner - I definitely recommend having a separate planner to help coordinate and plan your day! However, the property manager is very helpful as the estate has hosted several weddings and is familiar with the flow of a wedding day and where your vendors should set up.
Event Insurance
I highly recommend acquiring event insurance for weddings on estate properties, and also requiring your vendors to be insured. This is typical in the wedding industry; I have a $1 million liability policy that I provide to venues before photographing on their property. This is also a great way to ensure you're working with a professional team of vendors.
Ceremony Site
The location for the ceremony is accessible by walking straight through the house towards the pool, then turning right and following the stone path to the ceremony site. Guests are seated on the grass facing the back of the house, where an arch can be placed. Behind the guests is a walkway covered by a wooden arch, which makes for a gorgeous entrance for you and your wedding party! For the wedding I photographed in October, this was also the perfect spot for wedding party photos and family photos.
Reception Site
The reception takes place on the other side of the pool, again following the stone path, but turning left at the pool. There's a covered pavilion where your guests will dance the night away, and also typically where you'll cut your cake. The large grassy outside of the pavilion is where you and your guests will eat dinner. This area is spacious and accommodated over 130 guests when I was at the property. Something to note is there's not much ambient light in this area of the property. I always bring flashes and lighting equipment so as to capture all events as the reception progresses into the evening!
Photo Locations
I found there were a lot of great locations for photos at Paradise Vacation Estate! We used a covered walkway to photograph Kathleen + Ariel's first look. The covered walkway that surrounds the property was also a great location for portraits. The angle of the sun in the fall made the ceremony site location perfect for Kathleen + Ariel's large wedding party as well as all their family photos. It's also across the street from a small vineyard plot, so we popped over there right around sunset to get vineyard sunset photos of the newlyweds!
I knew Kathleen + Ariel's wedding day was going to be amazing when I showed up and Kathleen's maid of honor had a...hatchet?!?! with her! I mean, can you really say you have a best friend if she DOESN'T bring a hatchet to your wedding day?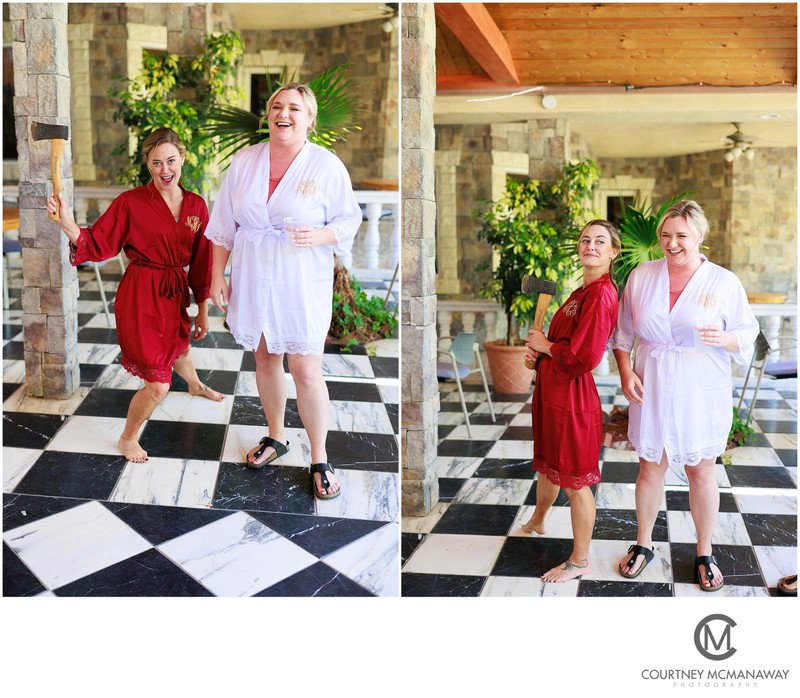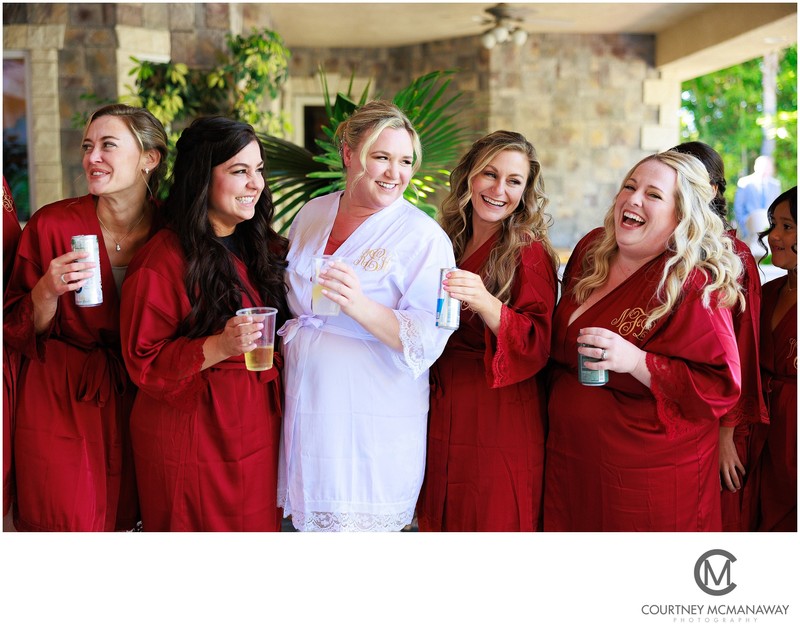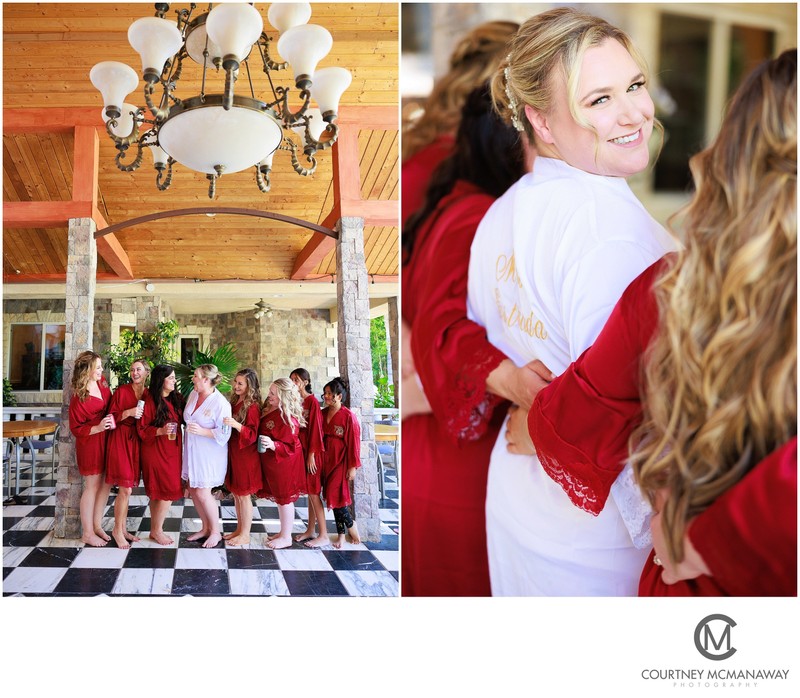 Ariel was getting ready with his groomsmen just across the estate!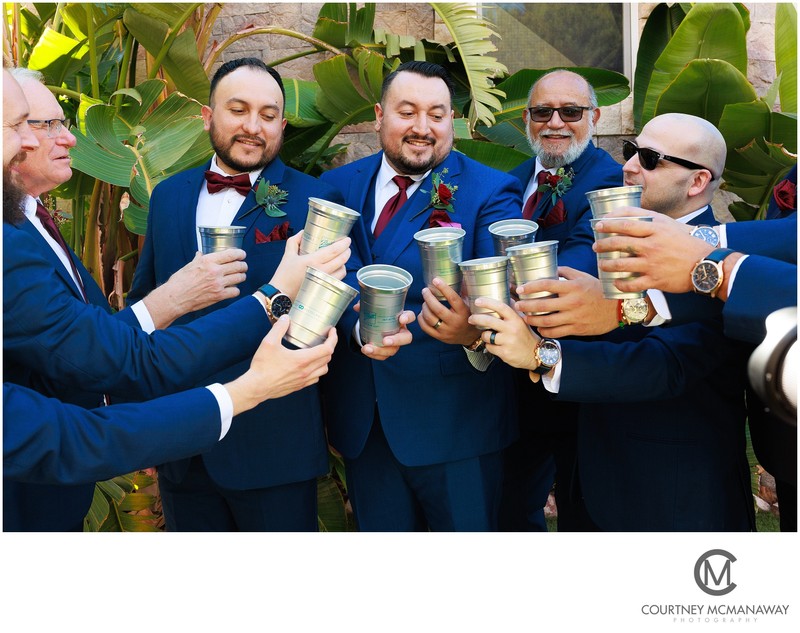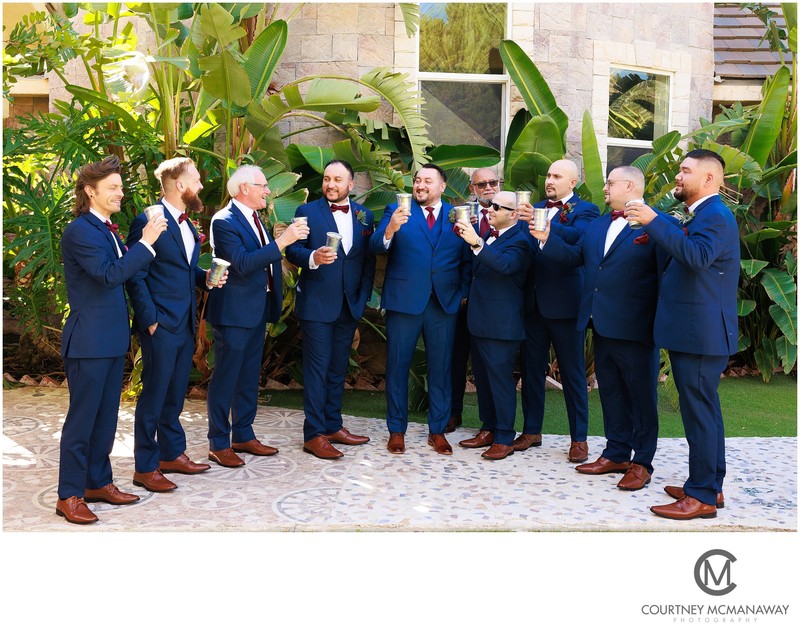 These moments between Kathleen and her mom! I always like to set some time aside for mother + daughter on the wedding day, just a few minutes to soak in the day and what it means to the bride and her mom!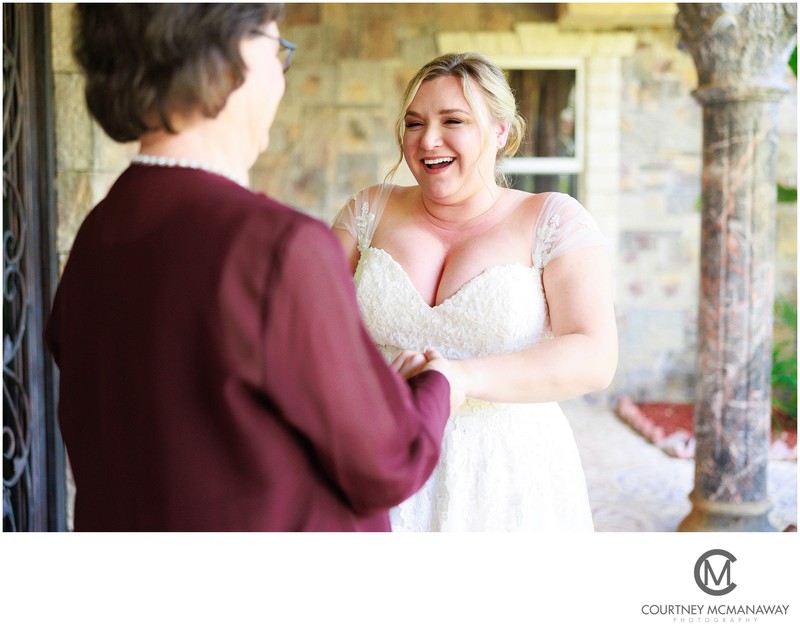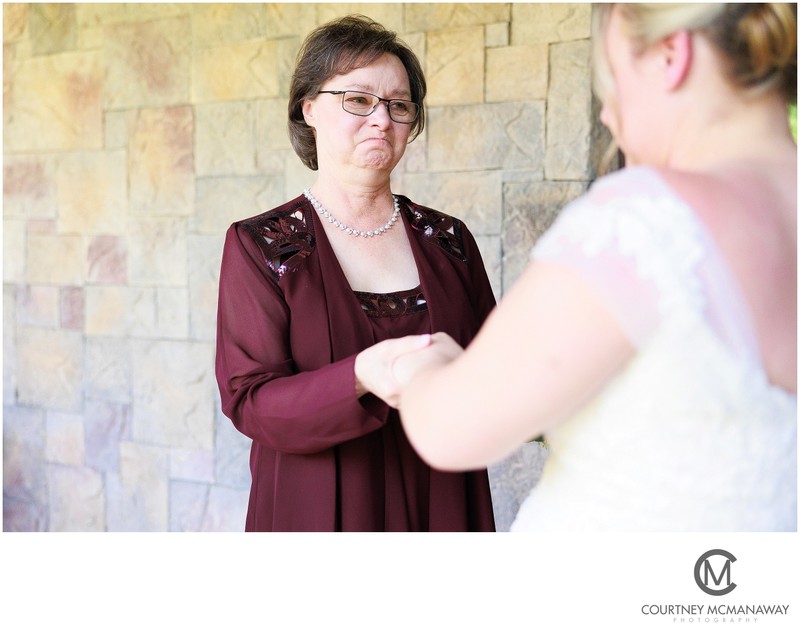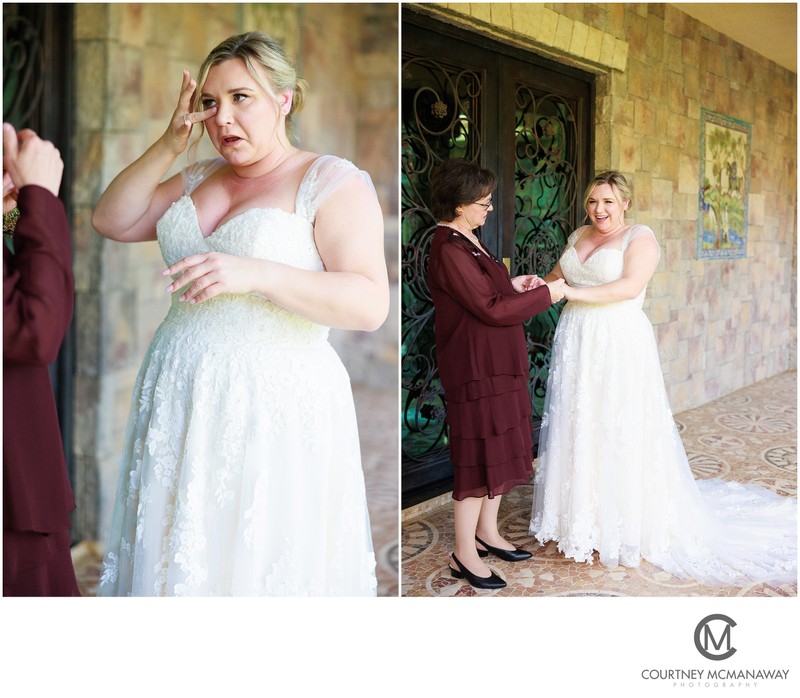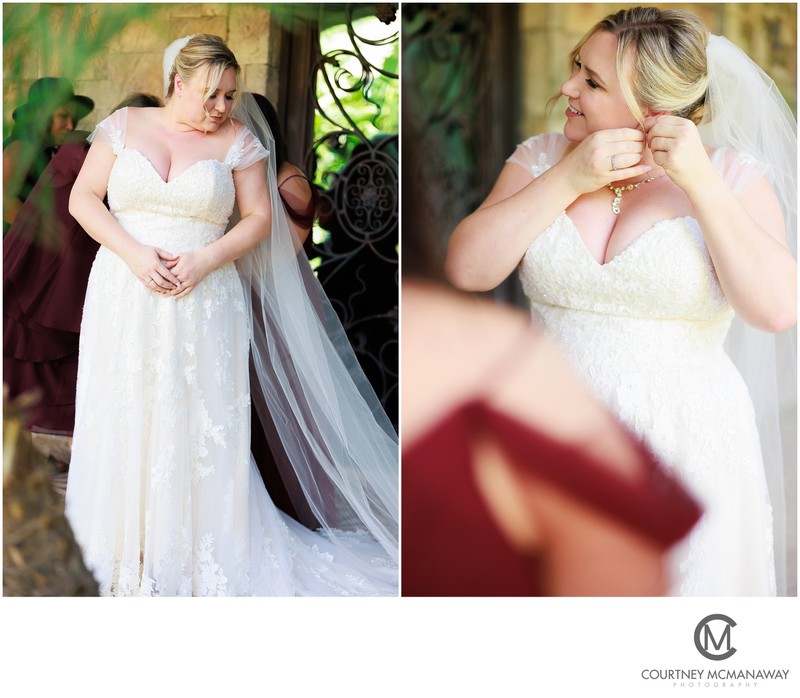 Time for the first look! They were so thrilled to see one another!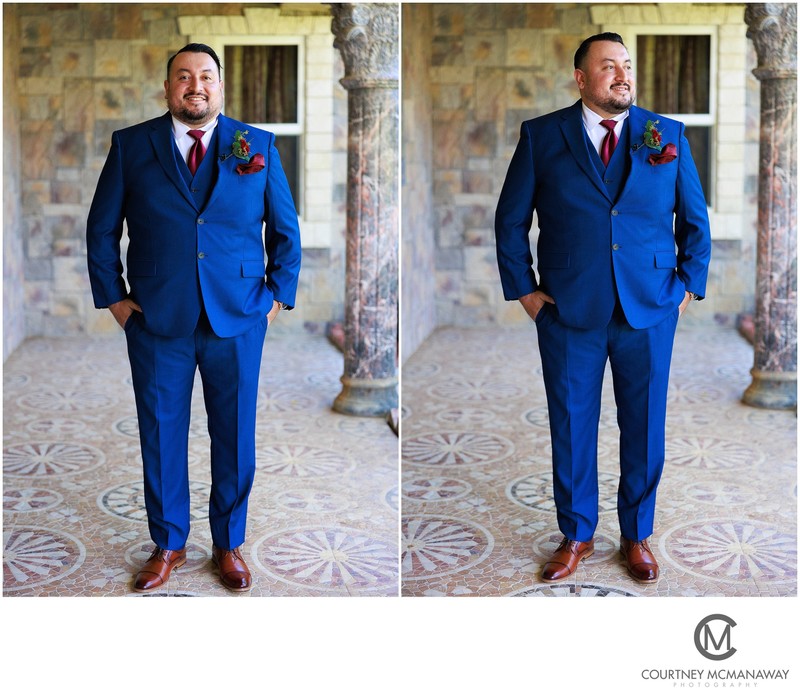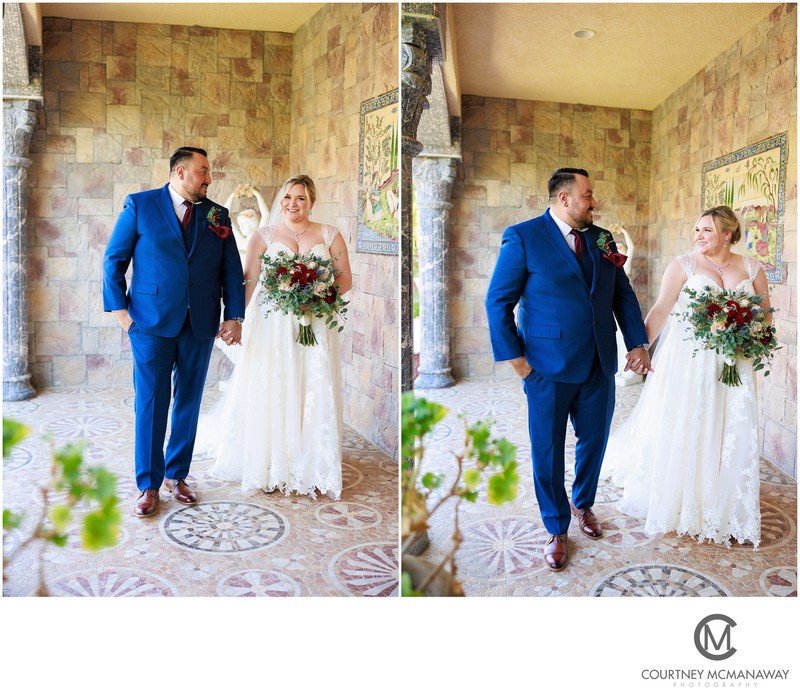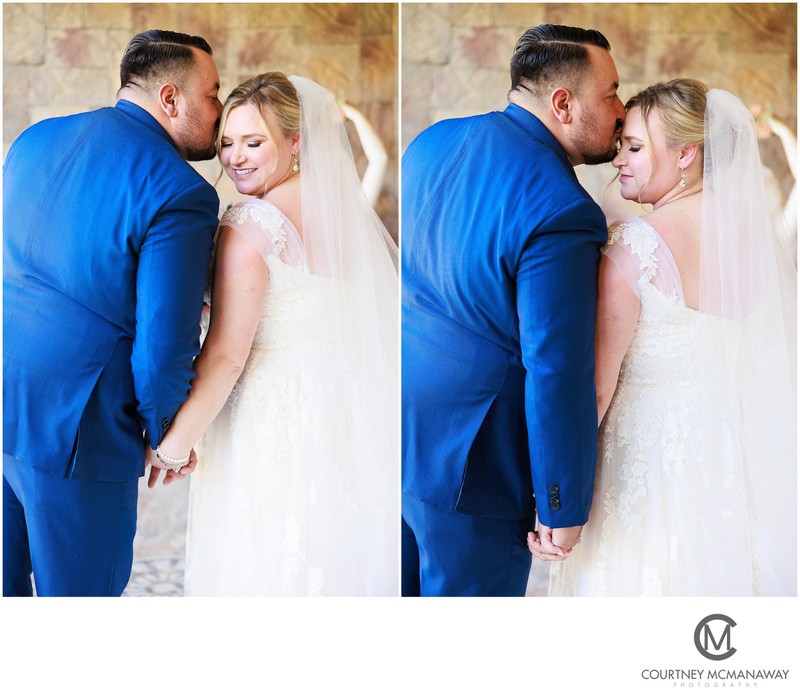 I LOVE a big wedding party! The biggest theme I saw from Kathleen + Ariel's day was how adored they are by everyone. Just a ton of laughter and fun (I wish I could embed Kathleen's laugh in this post, she has the BEST laugh!).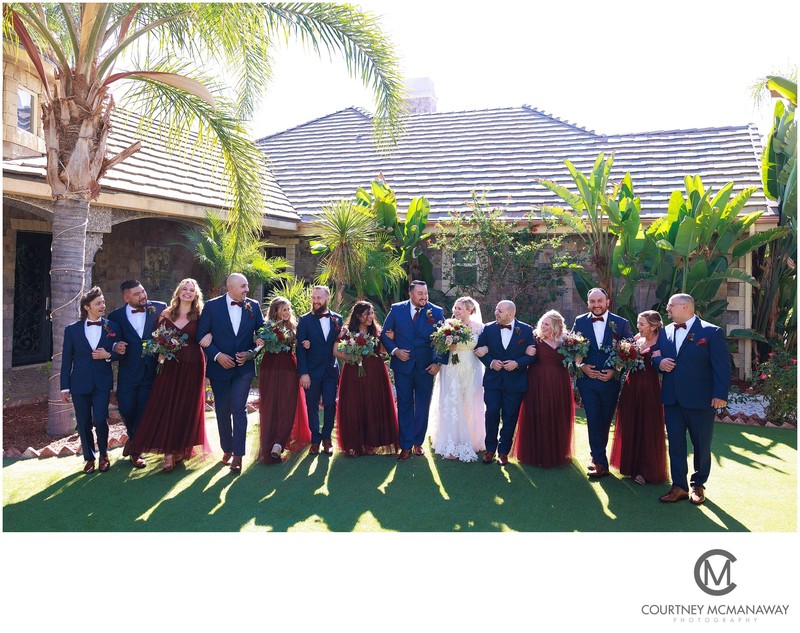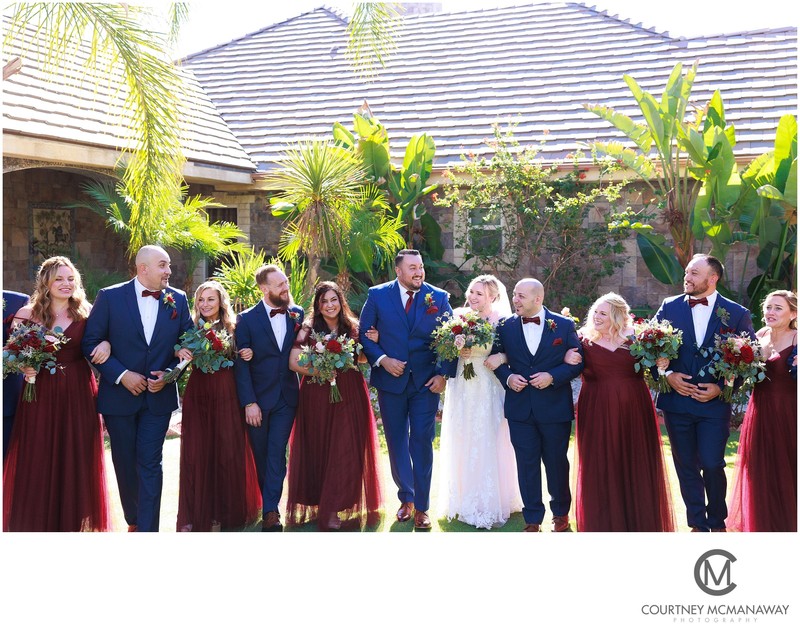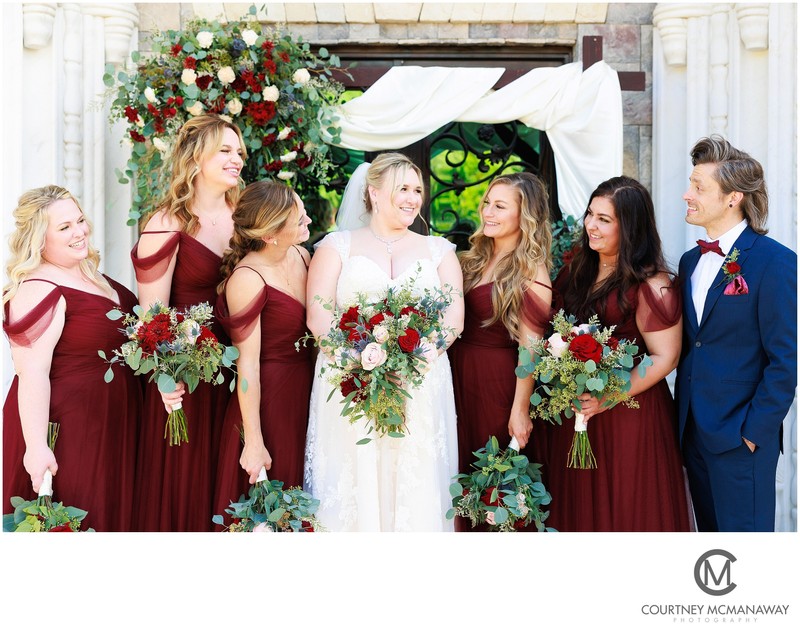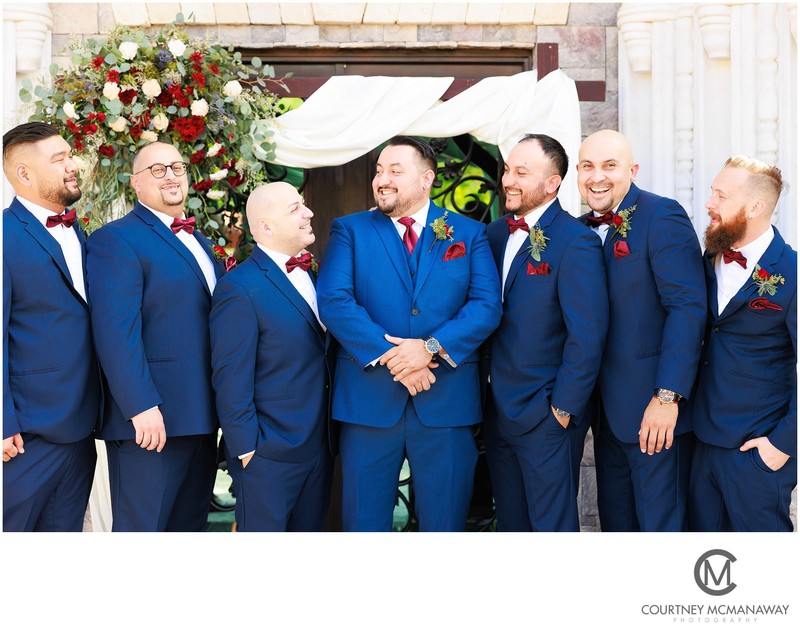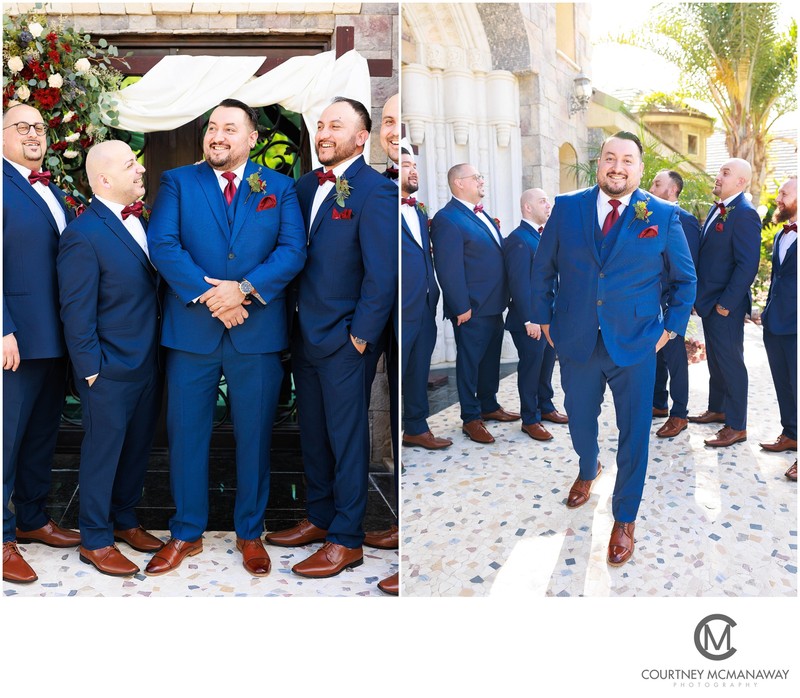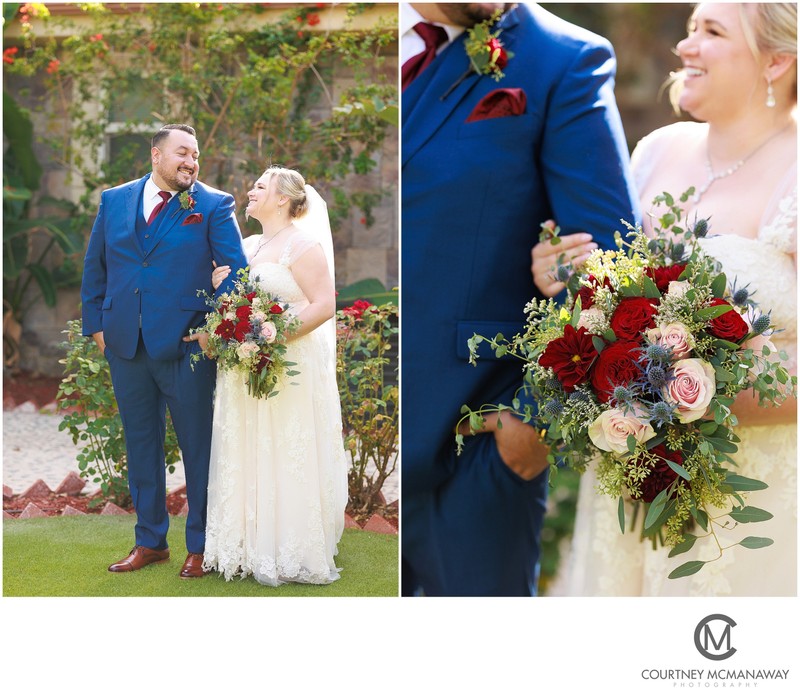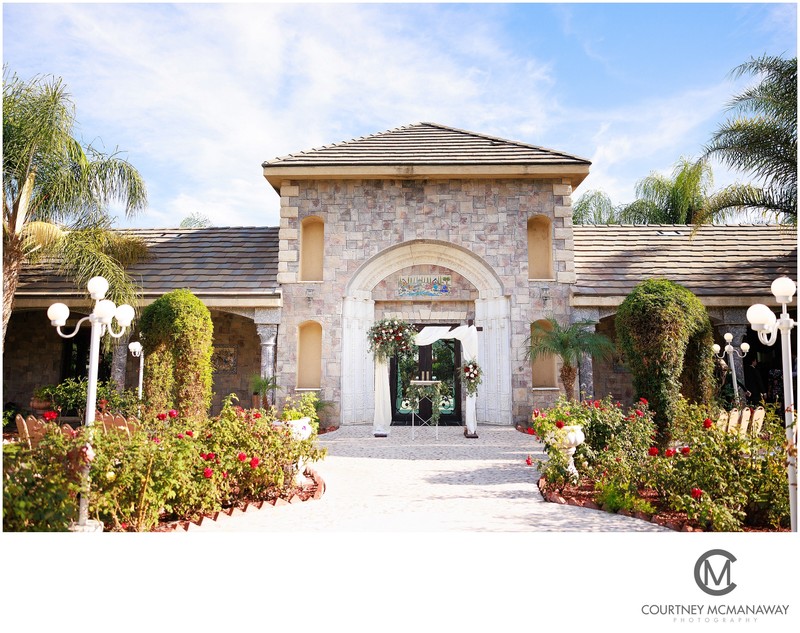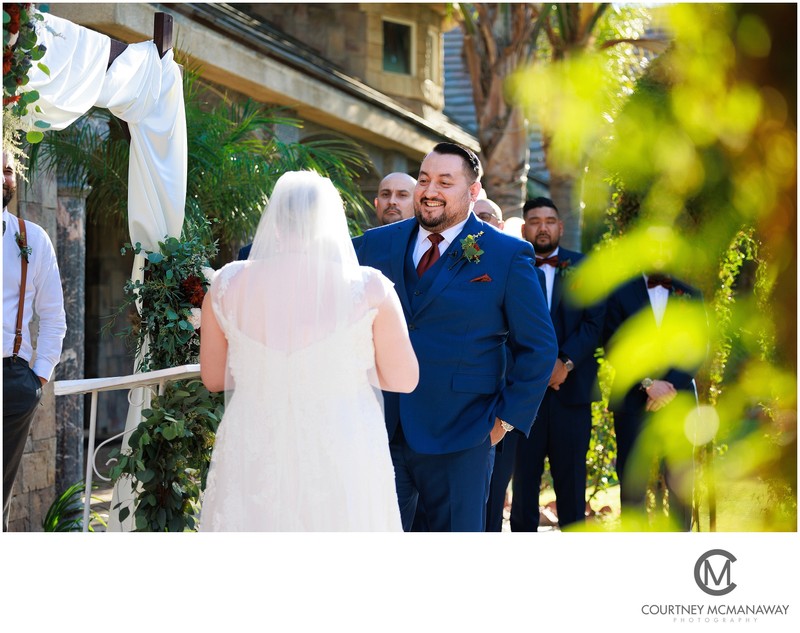 This is probably one of my favorite ceremony photos of all time - I just love Kathleen's laugh!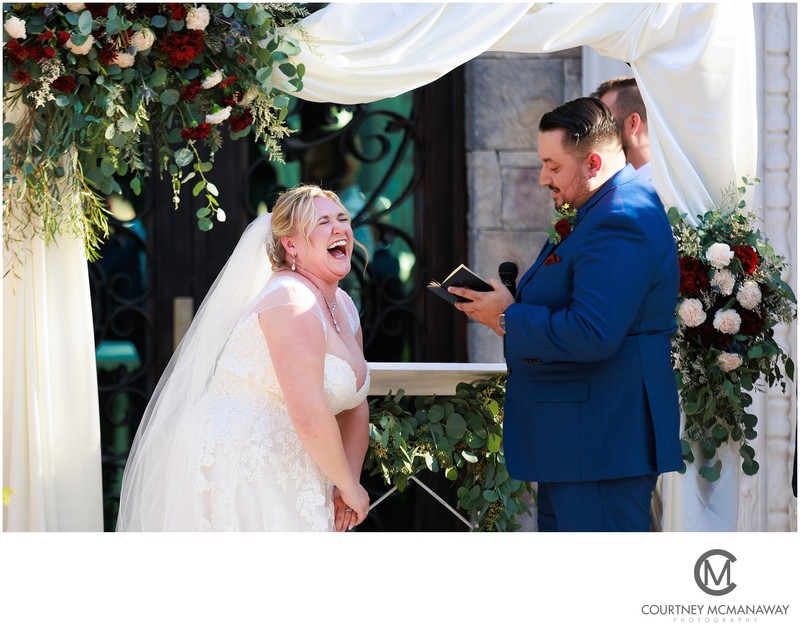 After the ceremony we took a quick spin around the grounds and across the street to get some vineyard images of the newlyweds!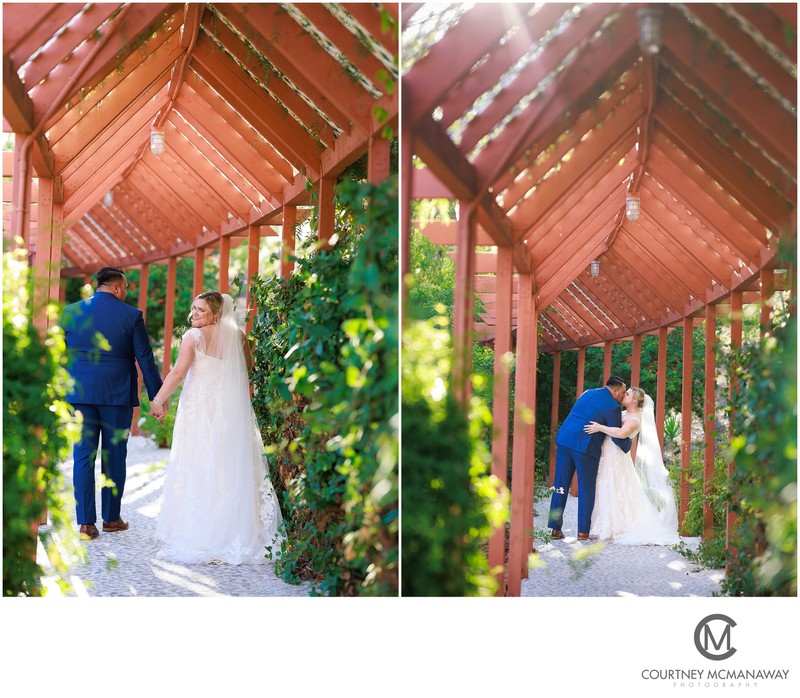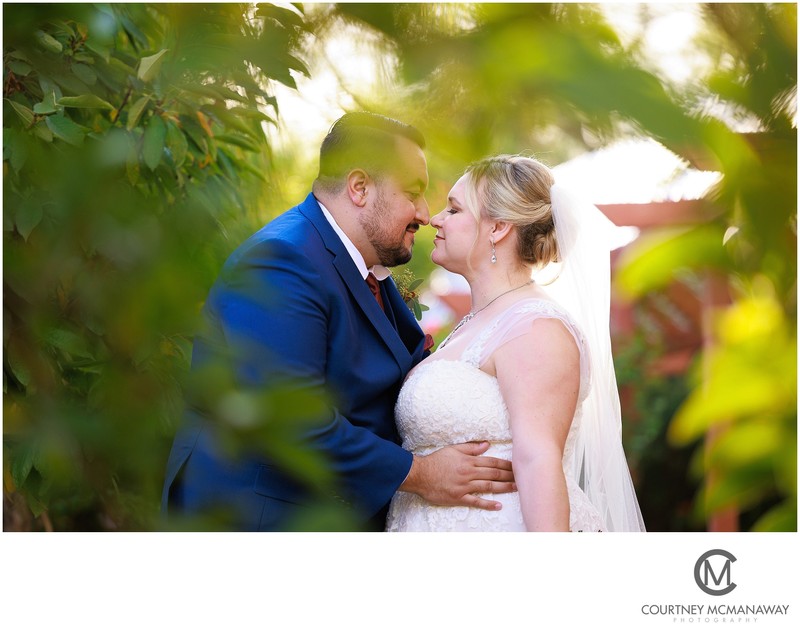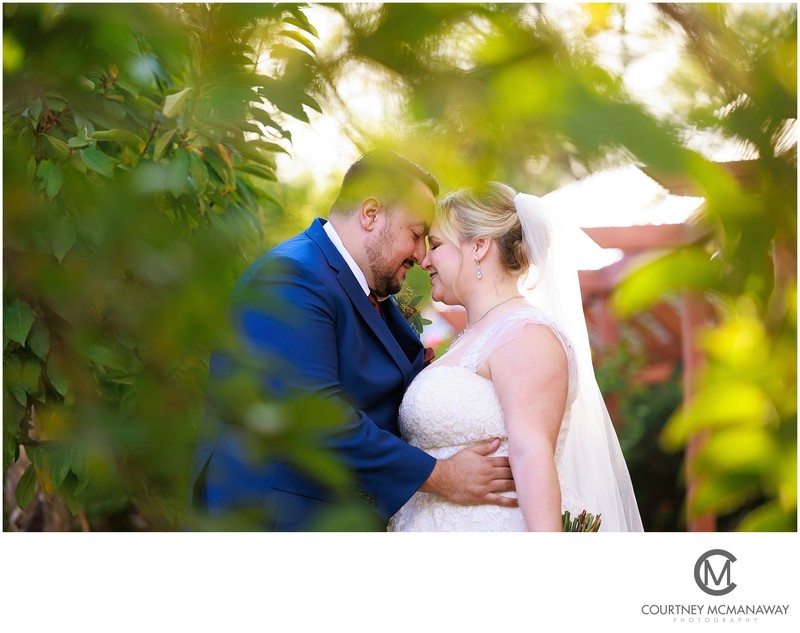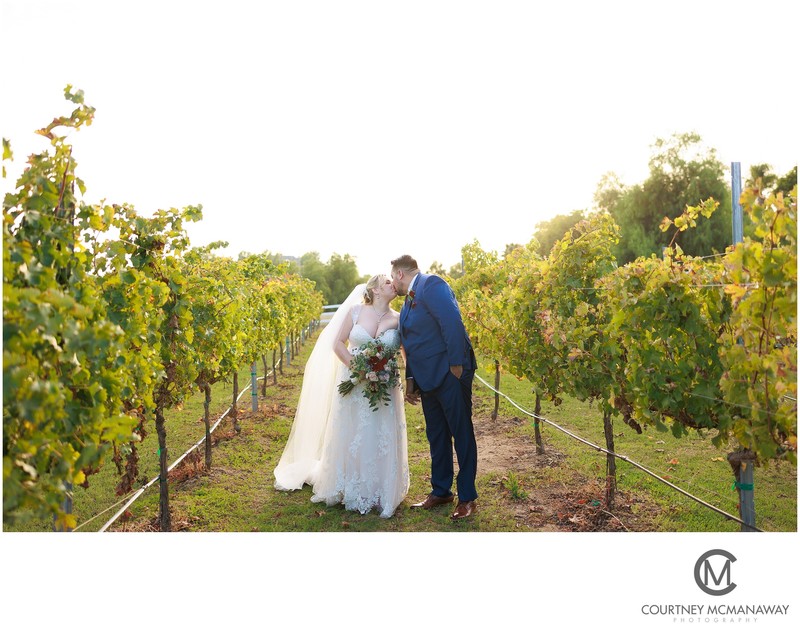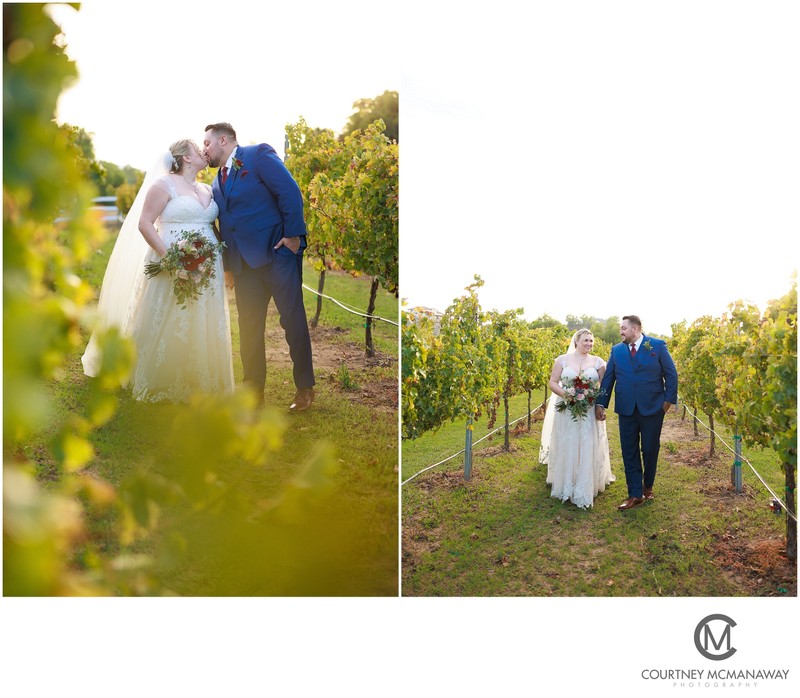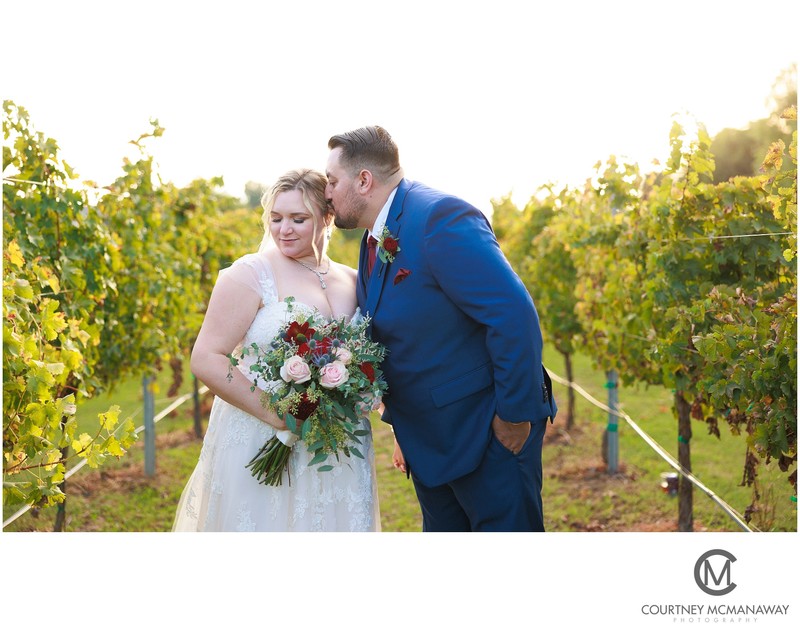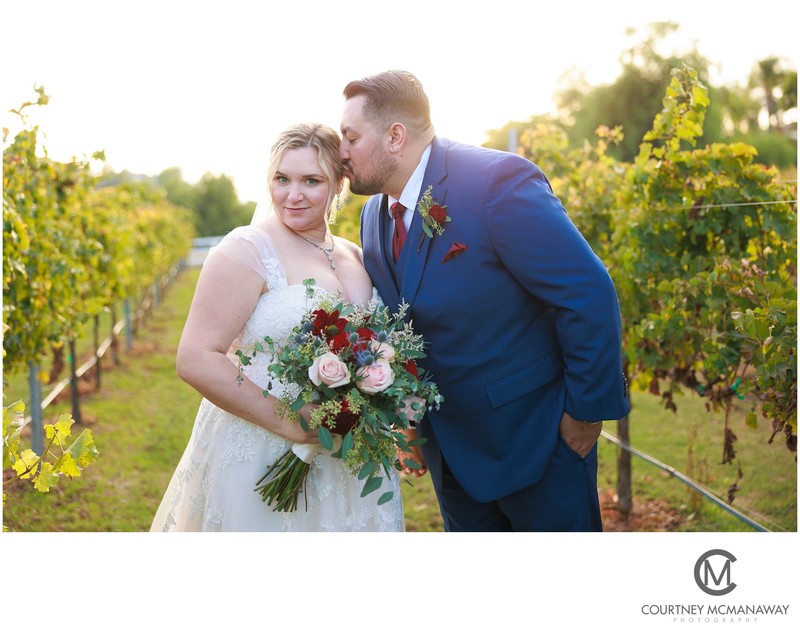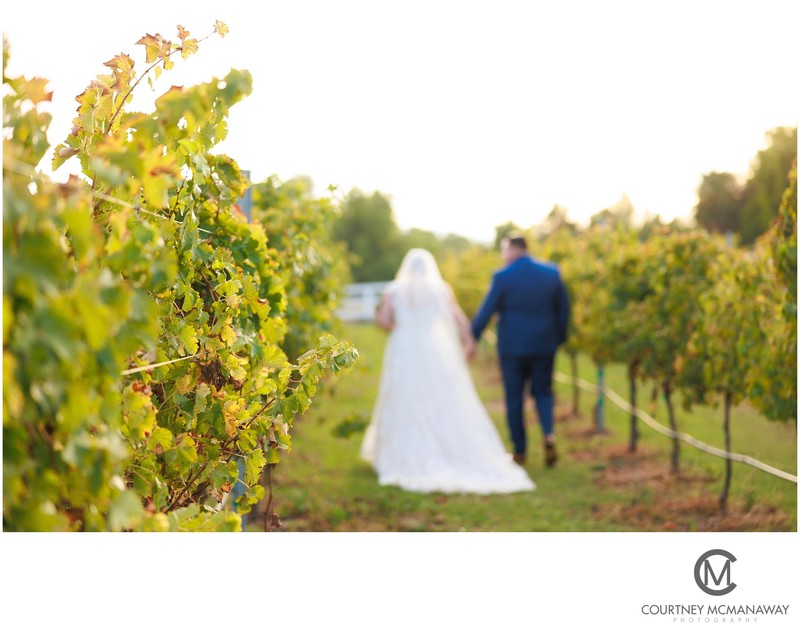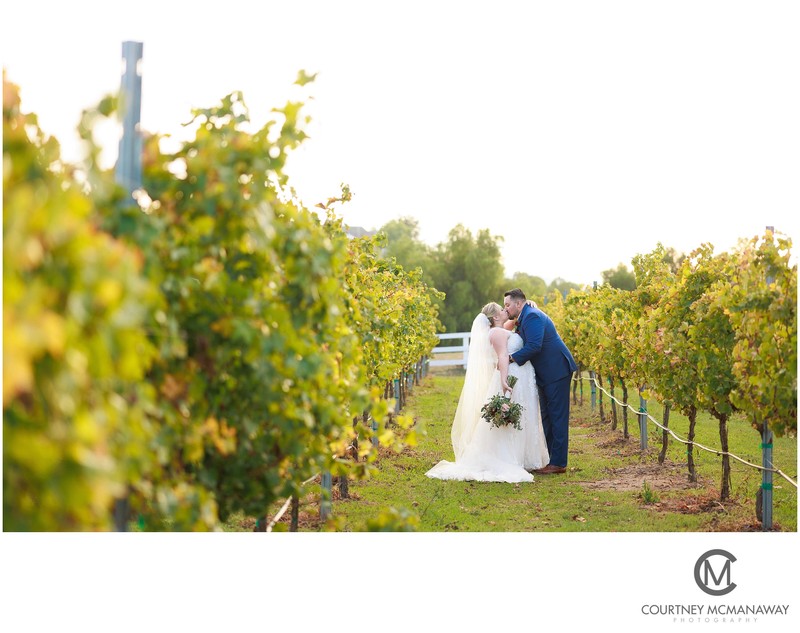 Let's get this party started!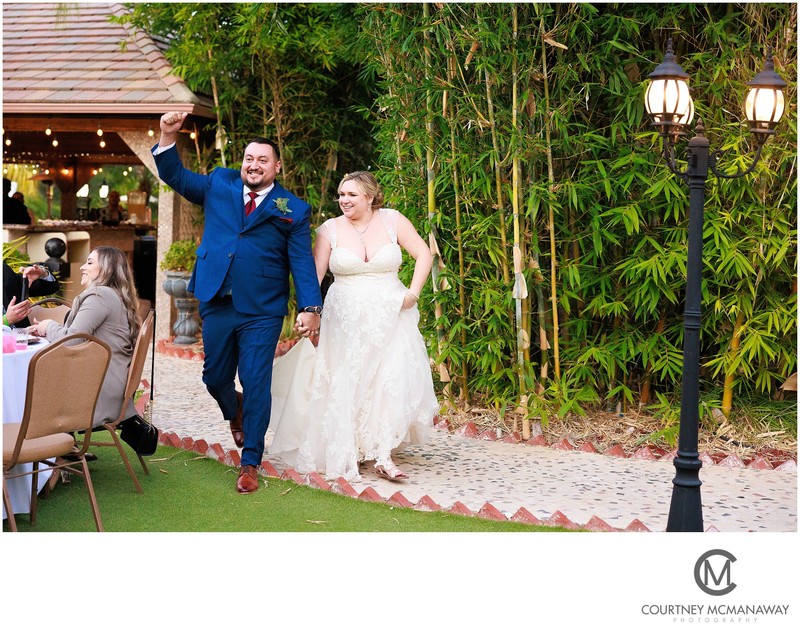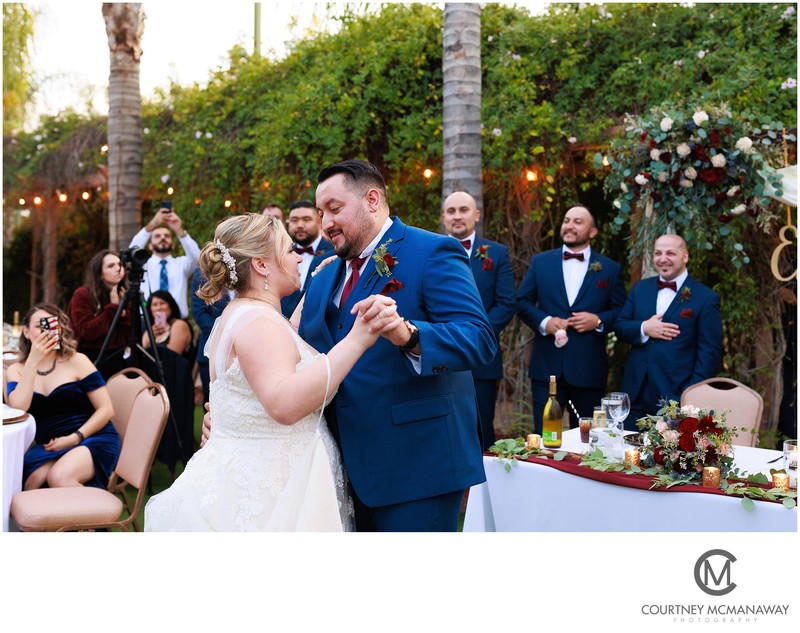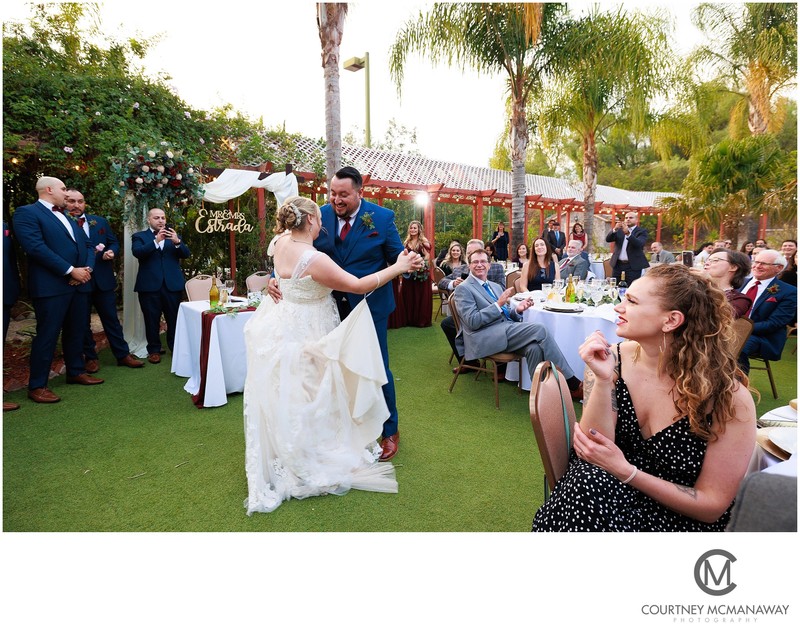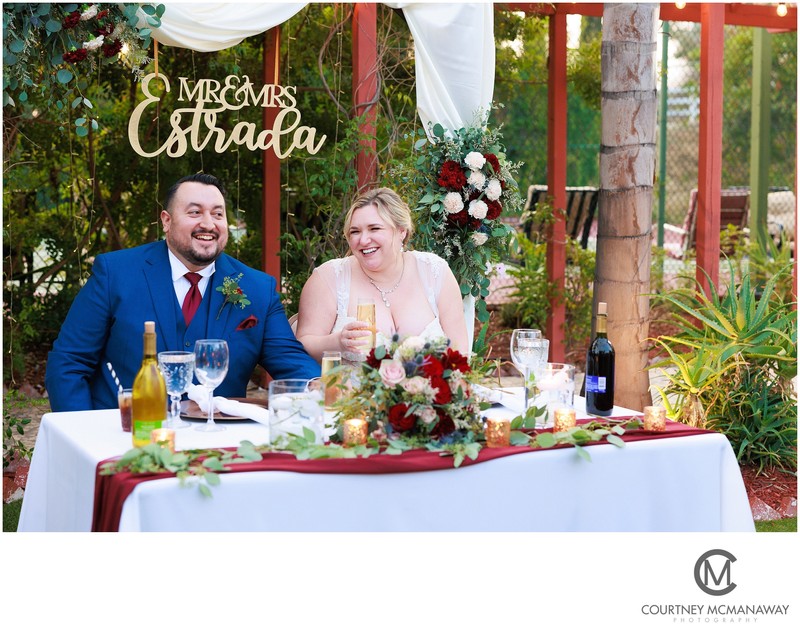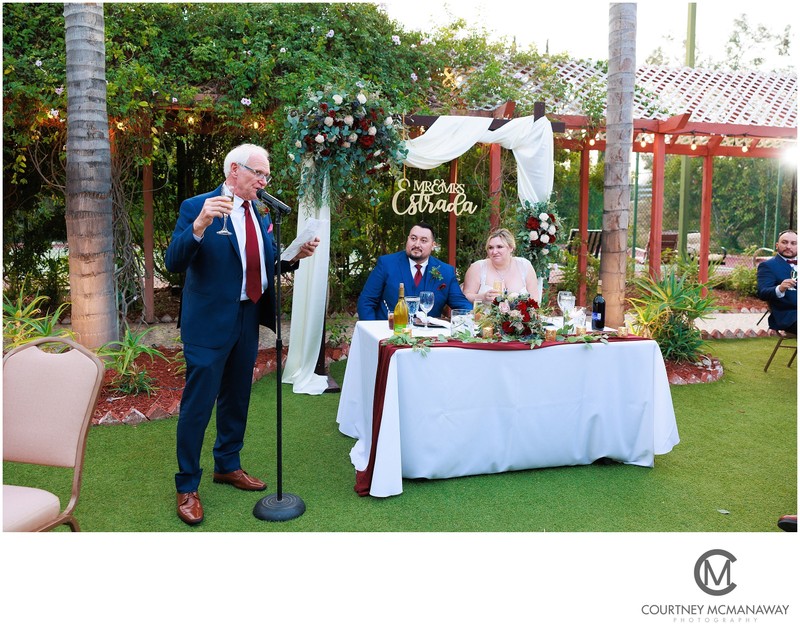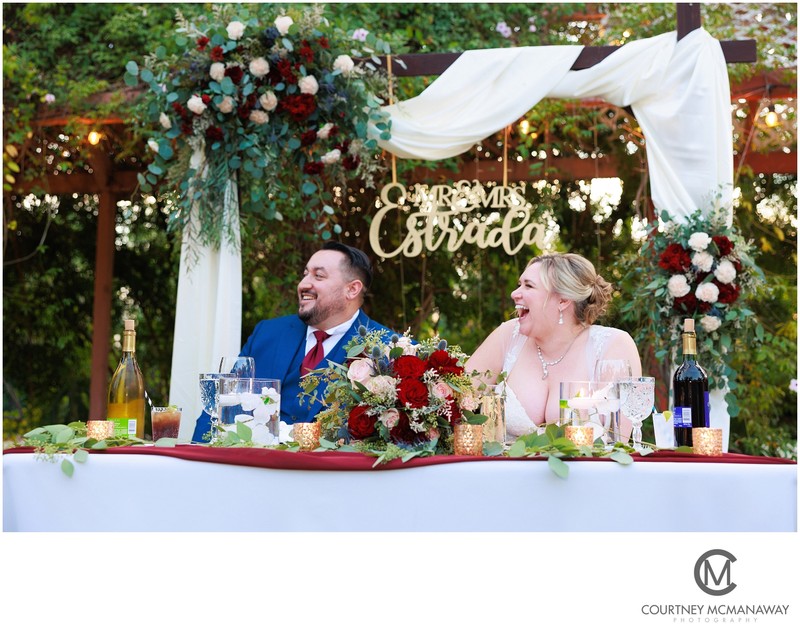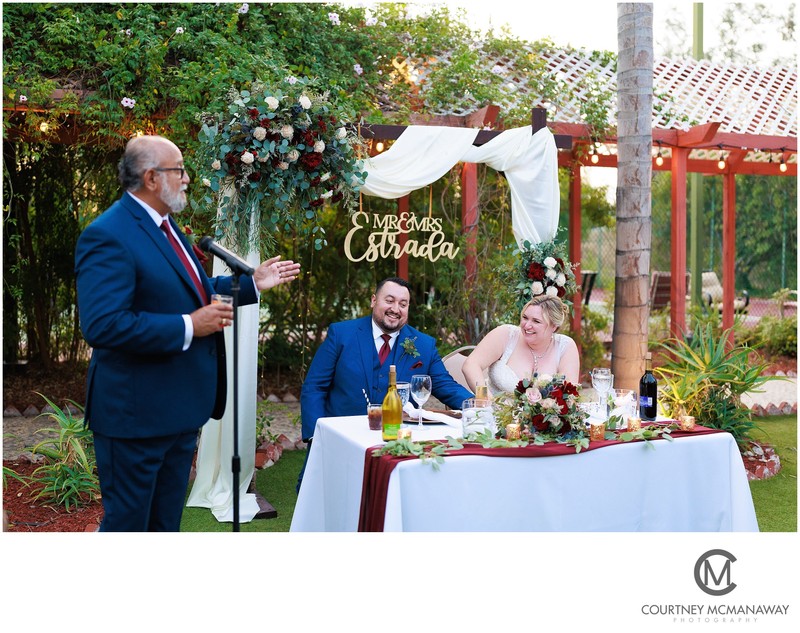 As the evening continued, we moved the reception into the patio space for family dances and open dancing!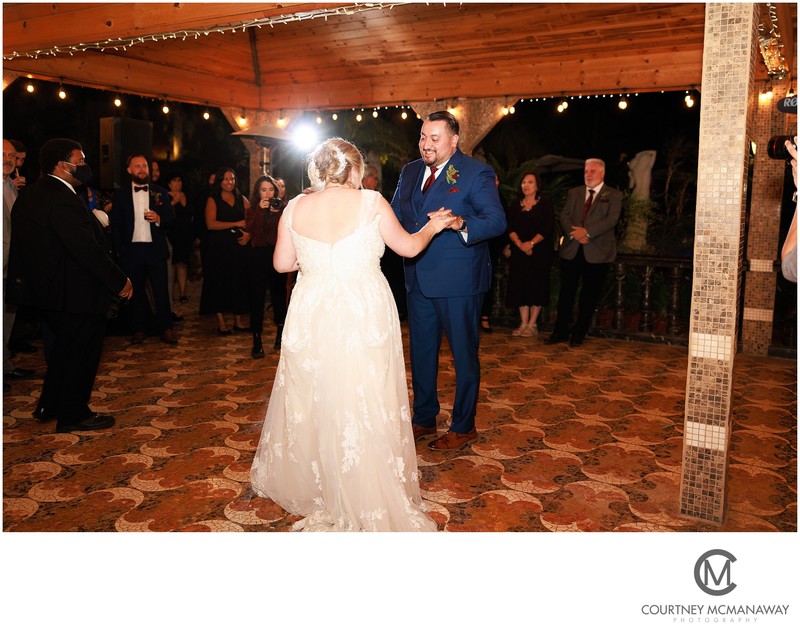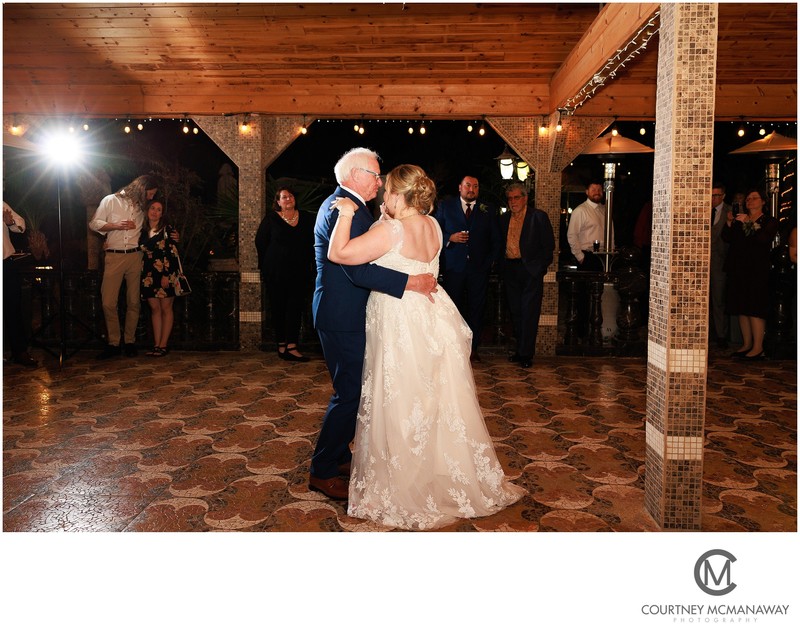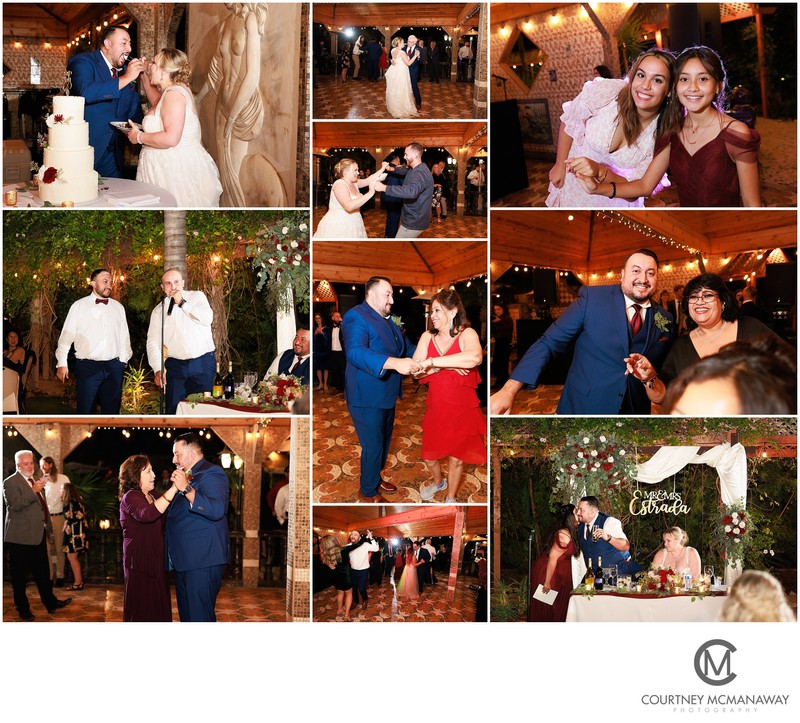 Kathleen + Ariel were absolute dream clients! Fun, authentic, kind and full of life! I am so lucky they found me and that I was able to capture their wedding day memories! A huge thank you to Kathleen for this very generous review she left for me. I am so, SO lucky to work with amazing clients like Kathleen + Ariel!
"What can we say about Courtney!?! We really lucked out by finding her! I was in the midst of researching photographers in the Temecula area, when a Facebook Ad popped up for Courtney McManaway Photography. Intrigued by the ad, I decided to click on it to see what she had to offer. I was immediately impressed by her home page with tons of candid shots of previous weddings she had done and as I explored her website more, I decided to contact her to see if she would be a good fit for us, and man, was she ever! Not only is Courtney very personable, but she has a great sense of humor, is very upbeat, has a positive personality, and is EXTREMELY organized! (As a very stressful bride, this took a big weight off of my shoulders!) Prior to the wedding day she had us fill out a questionnaire in regards to our family dynamics, specifics of our wedding ceremony, if we were doing a first look prior to the ceremony, and having an outline of specific family and friend pictures that we wanted the day of our wedding. This really allowed us to think about exactly what we wanted prior to the big day rather than worrying if we got all the specific family and friend pictures that we wanted the day of. I could not have been happier with how the photography went the day of the wedding as well. Courtney and her photographers were very punctual (ex: taking "getting" ready pictures, putting on the dress, etc.) and worked extremely well with the timeline our wedding coordinator had planned for our big day (we ran on time!). As we were taking pictures, Courtney and her photographers really knew how to guide us and tell us exactly what to do and how to pose, which at the time, seems silly, but when we finally got our pictures, we were blown away! She was able to capture so many emotions of our wedding, from to happy tears, to laughter, to the drunken shenanigans on the dance floor (and did they get some great shots of the reception!). We couldn't be happier with the outcome of our pictures and have gotten so many compliments on them. If you have the opportunity to book her for your big day, do it! It is worth every penny!" -Kathleen
Paradise Vacation Estate Wedding Team
Wedding Planner: Iman Lee Events // Venue: Paradise Vacation Estate // Hair & Makeup: Ankerman Artistry // Dress: D'Angelo Couture Bridal // Suits: Men's Warehouse // Florist: Blooming Fleurs DJ: Dellinger Entertainment // Videographer: Ryan Films // Catering: Temecula Catering // Cake: Bo Cakes
Temecula Wedding Resources
Longshadow Ranch Winery Wedding
How to Get Married in Temecula
Rose Haven Heritage Garden Engagement Session
Avensole Winery Wedding