Temecula Engagement Session at Humphreys Estate
Humpreys Estate is a one-of-a-kind location for Temecula engagement session portraits! As a Temecula engagement photographer, there's a few features of this sprawling estate property I love.
Humphreys Estate Property Features
Exclusivity: at present, it costs $75 to book a 90 minute time block at the estate. This means you'll have the run of the property to yourself at the scheduled time.
Variety in Backgrounds: Humpreys Estate features bridges, fountains, ivy-covered walls, mature trees, walking paths, and gorgeous landscaping which all create fantastic backdrops for your engagement session photos.
Restroom on Site: Although Humphreys Estate is a private family property, there is a restroom on site so you can change outfits midway through the session if you wish!
Unique Architecture for Southern California: Living as we do in the Temecula area, you'll find the majority of settings for engagement photos feature Spanish-style estates or housing. Humpheys Estate has more of an east-coast collegiate-style architecture - it reminds me of homes I would see in upscale areas like Grosse Point in Michigan!
When to Book Your Humpheys Estate Session
All appointments must be booked at Humpreys Estate booking calendar. When shooting engagement session, I like to photograph about an hour and a half before sunset. Currently, the latest time you can book on the calendar is 4:30 PM; therefore if you really want sunset portraits on the property I'd recommend booking in October or later in the season. Appointments made during Standard Time will be more ideal for being closer to sunset. Early morning portraits can also be lovely!
Humpreys Estate Location
Humpheys Estate is located at 45100 Rio Linda Rd, Temecula, CA 92592. The roads leading to the property aren't all paved, so keep that in mind when deciding which car to take!
Humphreys Estate Engagement Session Photos
Matt + Ryann's session at Humpheys Estate was so much fun! This session took place in late summer. It was just a touch windy at the estate but that just means you get that model-fan look in your photos, right?
We started off at the bridge entrance - such gorgeous dappled light! I love the brick and lanterns throughout Humphreys Estate.



One thing I've realized after ten years of being a Temecula wedding photographer - I specialize in goofy grooms! Or I guess I should say I seem to attract couples that easily make each other laugh - and it doesn't hurt when they TOTALLY get my "Blue Steel!" references! I really loved working with Matt + Ryann because Matt really had a way of making Ryann laugh!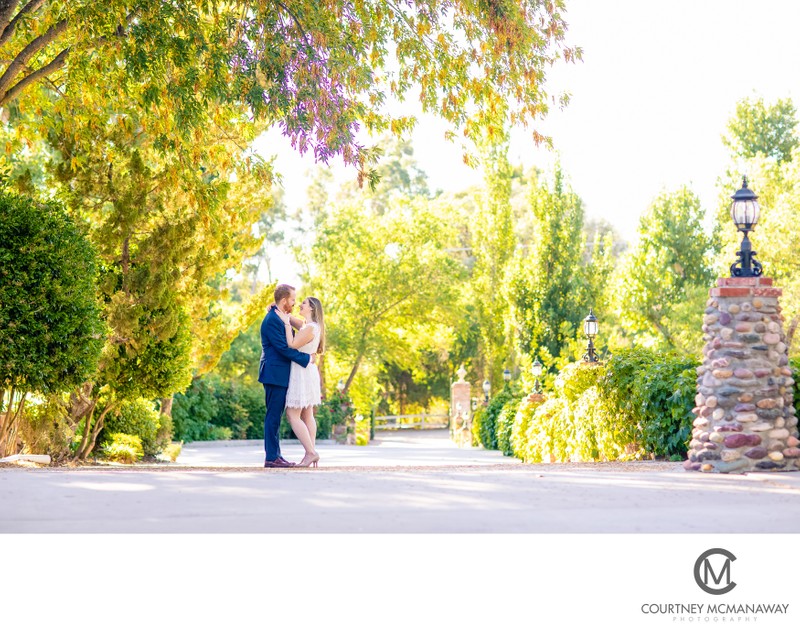 Matt + Ryann were also looking for a few photos overlooking the Temecula Valley to round out their session. We found this awesome hill on the way in to Humpheys Estate that was the perfect way to end their engagement shoot!
Temecula Engagement and Wedding Resources
Temecula Engagement Photo Locations

Your Guide to Temecula Elopements, Minimonies & Micro Weddings

Temecula Elopement Photographer

Location: 45100 Rio Linda Rd, Temecula, CA 92592.

Keywords: Temecula Engagement Session (2).